Watchdog: Lightning strikes twice on blocked diesel filter
Unlucky Hyundai owner hit by two fuel filter faults, highlighting industry-wide issue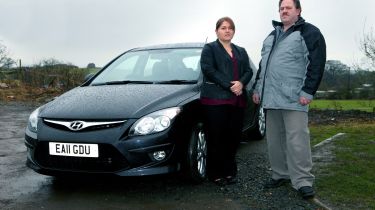 The pros and cons of diesel cars are often in the headlines, and one reader got in touch with Carbuyer's sister site Auto Express about a problem that's affecting the entire market.
Derek Vickers, from Ferryhill, Co. Durham, contacted the consumer desk after his daughter Rachel's Hyundai i30 continued to develop fuel filter issues.
In 2014, the i30 cut out with no warning. It was taken to a garage where the problem was diagnosed as a faulty fuel filter caused by cheap supermarket diesel. Following this, Rachel ensured she only filled up at stations like BP and Shell.
However, early this year the i30 ground to a halt again – this time on a motorway. Rachel took it to Hyundai dealer SG Petch Durham, where the filter was replaced for a second time. The dealer said fuel waxing was to blame.
Derek wasn't happy the fault had returned so quickly and did some digging on Hyundai forums. He told Auto Express: "We found lots of other people online having the same problem. It's clearly a fault."
We spoke to Hyundai and were told it was aware of the problem, but it was an industry-wide issue which is unresolved and not restricted to Hyundais. A spokeswoman added: "We conducted investigations to make sure our products are operating as they should. We are confident that there is no manufacturing defect relating to fuel filter blocking."
The Society of Motor Manufacturers and Traders (SMMT) confirmed it was looking into the problem, saying it appeared to be a regional concern on makes and models of all ages. "SMMT continues to work with government and the fuel industry to identify the root cause of the problem," said a statement.
The Hyundai spokeswoman added: "We understand the frustration about filter blocking and will continue to support our customers and dealer network, even though it is not considered a manufacturing defect."
What should you do if it happens to you?
The SMMT advises motorists affected by the issue to keep their latest fuel receipt and report the problem to the retailer, noting the date and time of the incident so the issue can be tracked and eventually rectified. Take the car back to your dealer to get the filter replaced to avoid the danger of the car cutting out, too.