Watchdog: Driver baffled by intermittent stop/start
Mazda owner believes system is faulty but dealer and manufacturer don't agree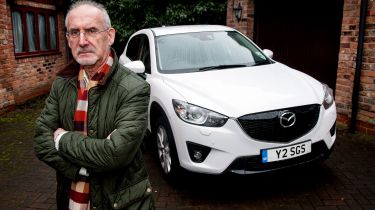 Stop/start is a piece of emissions-busting tech designed to kick in only when it's beneficial. As you pull up to a set of lights, for example, the system makes a split-second decision about whether switching off the engine – then on again as the lights change – will use more energy than just leaving it running.
So how can you tell if the setup's working properly? That's the question frustrating Les Stone, of Salford, Gtr Manchester, who argues the i-stop system in his 62-reg Mazda CX-5 is suspiciously intermittent. Yet after repeated trips to RRG Mazda in Manchester, the dealer concluded there was no fault with the SUV's stop/start.
Les told Carbuyer's sister site, Auto Express: "My dealer explained that anything which drained the battery, like the heated rear screen or the air-con, would affect whether it worked. Yet I noticed it would work first thing in the morning from cold, with everything switched on, but then not after a drive on the motorway. It didn't make sense."
We called Mazda for help, but it also argued Les's i-stop wasn't necessarily faulty. A spokesman said: "Myriad factors based on electrical loadings influence whether the i-stop works. It's incredibly complicated. Ambient temperature will have an impact, for example, or even switching the cabin air flow from the windscreen to your face."
The same journey, made on two different days, might therefore result in entirely different pattens of stop/start operation, the spokesman argued, adding: "If it hasn't kicked in, it's for a good reason. If it was faulty, there would have been a warning light and it would have been picked up by the dealer during diagnostic tests."
If Les is still unconvinced, the consumer desk at Auto Express suggested he asks his dealer to make another CX-5 available for an extended test drive. He can then at least establish if the same intermittent pattern applies.
What should you do if it happens to you?
Comparing your car to an identical new model is a great way to test dealer claims there's nothing wrong with yours. If you find it performs the same, you can assume it is a 'characteristic'. If your garage refuses to offer a comparison test, however, we'd advise escalating the complaint to the manufacturer.