Watchdog: Persistence pays off for hit and run victim
Reader spots offender in press and pursues claim through Motor Insurance Bureau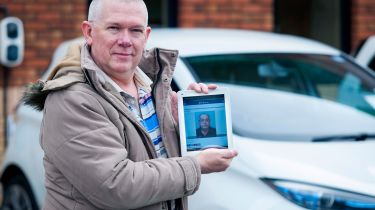 Your brand new car gets damaged through no fault of your own and the guilty party drives off without leaving their details – it's hard to find a worse scenario for an insurance claim. But that's exactly what Frank Du Mains, from Bideford, Devon, faced back in 2013 after a trip to the shops in his new Ford Focus.
A white van had reversed out of a space straight into the side of Frank's Focus before driving off. Frank contacted the police but because the van was on foreign plates it couldn't be traced. The only other evidence Frank had was a good look at the driver's face.
Frank's insurer LV paid for the repairs but it cost him his policy excess and a huge premium increase on his next renewal. However, last year Frank was flicking through his local newspaper – the North Devon Journal – when he saw a familiar face. The driver of the van had just been sentenced to four years in prison. Frank immediately contacted the police but they said too long had passed for them to pursue a case, while LV couldn't help, either.
Still, Frank continued his quest for justice, and contacted the Motor Insurance Bureau (MIB) in its role as the UK Green Card Bureau. Under this, it can identify the relevant foreign insurer or handle the claim in the absence of one.
MIB investigations in Frank's case proved the driver held an overseas insurance policy on the van, and this month the MIB convinced the insurer of liability. The MIB reimbursed LV for the claim, while Frank received £250 to cover his policy excess. The MIB will recover its costs from the foreign insurer.
Frank, who has since sold his unlucky Focus, told Carbuyer's sister site Auto Express: "The MIB was brilliant, leaving no stone unturned."
An MIB spokesman added: "Being the victim of an incident such as this can be distressing, and we are pleased that this matter is now resolved and that our assistance has been appreciated."
What should you do if it happens to you?
If you're involved in a hit and run collision, take down as many details as possible, such as make, model, colour and registration, plus location and time. If it's safe to do so, snap as many pictures as you can, too. Pass these details to the police and your insurer. If you can identify the driver, don't confront them yourself.