Watchdog: Hyundai owner wins battle over nearly-new i30
Driver faced paintwork and air-con faults that weren't his doing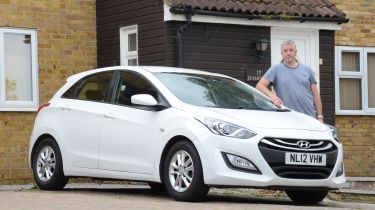 Paintwork problems are notoriously tricky to claim for under a manufacturer warranty, because anti-perforation cover only applies to rust starting from the inside out – not chips due to normal wear and tear. So it's worth paying special attention to the bodywork when buying a nearly new car
Reader John Haydon of Chigwell, Essex, bought his 12-plate Hyundai i30 in December 2013. But two weeks later, while cleaning it, he noticed some discolouration on the front wing.
When confronted, supplying dealer Evans Halshaw Hyundai Gateshead was adamant that it had no record of any accident damage or a respray for the car. John said: "I tried contacting the dealer principal a number of times, but my calls just went unanswered."
John then discovered the air-conditioning unit didn't work and was quoted nearly £500 by local dealer Allen Briggs Motors in Chingford to fix it. He complained to Hyundai, but it refused to help. "I was told the air-conditioning unit was not covered under warranty and that it wasn't prepared to help with the paintwork issue, either," John said.
Carbuyer's sister magazine Auto Express advised John that he was entitled to compensation. The supplying dealer should have spotted the patchy paintwork, and as the car had been advertised as having air-conditioning, it was reasonable to expect it to work.
They contacted Hyundai and its spokeswoman admitted: "Mr Haydon's complaint probably wasn't dealt with the way it should have been." And she added that the dealer principal at Evans Halshaw "no longer works there".
She confirmed that the new dealer principal and Hyundai would be happy to cover the cost of repairing the paintwork and the air-conditioning unit. John was delighted. "That's amazing," he said. "After months of getting nowhere, a couple of days with Auto Express and it's all sorted."
What should you do if it happens to you?
If you're looking for a nearly new car, it's worth going for one sold under a manufacturer's approved used scheme. It may cost a little extra, but it'll have undergone more pre-sale checks. John's Hyundai wasn't, although it would have automatically given him a 30-day money back guarantee if he wasn't happy.