Watchdog: Shoddy repair comes back to haunt owner
Van driver unhappy with insurer after body repairs carried out in 2007 turn to rust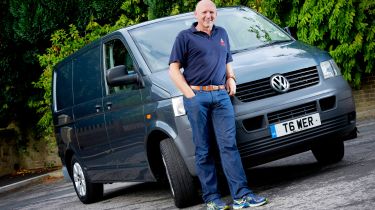 Insurance and warranties are two of car owners' biggest gripes, so it's little wonder that there can be problems when the two come together.
Karl Greaves, from Leeds, got in touch with the consumer desk at Carbuyer's sister site Auto Express at the end of last year after an old claim came back to haunt him.
In 2007, Karl had a collision which caused damage to the rear wheelarch of his VW Transporter. He claimed through his AXA insurance and the repairs were carried out by an approved centre.
However, some 18 months later, the paintwork started to bubble and he went back to the bodyshop, where he was told the work was only guaranteed for 12 months. Karl complained to his broker, but didn't get anywhere.
Seven years after the initial repair, when Karl was having routine service work done by VW, rust was uncovered in the previously damaged wheelarch. VW investigated the matter and said that it wasn't covered under the bodywork warranty, as the repair work hadn't been done to manufacturer standard.
Karl told Auto Express: "I insured with AXA, which wasn't the cheapest, but as a self-employed electrician, I wanted the best insurance. The fact that the repairer didn't do the job properly isn't my fault."
Karl said he wanted to buy the new T6 Transporter, but the rust was severely affecting the value of his current van.
We contacted AXA and a spokesman explained it had previously outsourced repairs, but has now taken them in-house to ensure work is up to standard.
He added: "It's really unfortunate that Mr Greaves wasn't advised to contact us directly. When we found out, we sent an engineer out immediately. AXA will, of course, honour payment for the repairs.
"If a customer isn't satisfied with any party involved in a claim, we'd advise them to contact their insurer directly, as these issues can be resolved quickly."
What should you do if it happens to you?
The British Insurance Brokers' Association (BIBA) advises that after a claim, insurers should return customers to the same position they were in before. However, there's no industry-wide rule about parts used for repairs and this is policy specific. Check to see if your insurer specifies using parts approved by the manufacturer, or not.