10 reasons why the Citroen C4 Cactus is our Car of the Year
Sponsored | The Citroen C4 Cactus represents the best of Citroen's eye-catching styling. No wonder we made it Car of the Year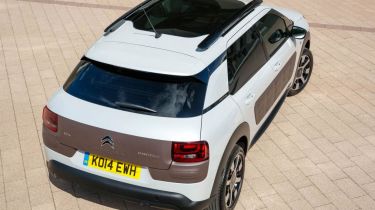 Citroen has entered the crossover market with a bang. But the brilliance of the Citroen C4 Cactus stretches further than the bold styling and those Airbumps.
It's a spacious, practical and comfortable car that's crammed with technology and comes with a very attractive price tag. Let us explore the ten reasons why we reckon the Citroen C4 Cactus is the best new car currently on sale.
Those looks
Citroen has been responsible for some of the most striking cars ever made, and the C4 Cactus is up there with the very best.
There's no mistaking the Citroen C4 Cactus for anything else. Its bold face sets the scene, but the real talking points are those Airbumps. But the Cactus isn't an exercise in flamboyance. That raised ride height and chunky roof rails mean it can easily handle the worst of the urban jungle.
Clever thinking
Those stand-out Airbumps on the doors and bumpers aren't just there for show. They contain bubbles of air which can shrug off car parking dings to keep the paintwork looking fresh.
It's that kind of clever thinking which has also seen the C4 Cactus' passenger airbag moved into the roof. Why? To free up space for a huge top-opening glovebox.
A practical package
The C4 Cactus makes remarkable use of its interior space. You'll find huge pockets in all four doors, a big 358-litre boot and plenty of space in the front and back seats. Plus, you get that huge glovebox too!
Individuality
As you'd expect for such a striking car, there's lots of scope to customise those looks. You can choose from ten exterior paint colours, four Airbump colours, four alloy wheel designs and plenty of interior colours - plus options including a full-length glass roof.
The latest in-car tech
All C4 Cactus models come with a seven-inch touchscreen and a DAB radio, but that's just the starting point. A system which effectively allows the Cactus to park itself, a panoramic glass roof which keeps out the sun – and the cold – plus sat-nav are all available.
We recommend the mid-range Feel trim because despite packing must-have equipment such as air-con, Bluetooth and alloy wheels, it's still tremendous value for money.
Quiet and comfortable
Citroen has long been famous for building comfortable cars and the C4 Cactus is no exception. Its supple suspension soaks up the bumps perfectly and, coupled with quiet engines, it's a wonderfully relaxing car.
A relaxed drive
Despite that supple suspension, the C4 Cactus still handles well. What's more, it feels comfortable and sure-footed when you're driving on the motorway. Thanks to its light steering, it's easy to drive in town too. You sit a little bit higher than you do in a normal hatchback, which gives you a good view through the windscreen. That makes the C4 Cactus very easy to thread through traffic.
Incredible efficiency
With its 1.6-litre diesel BlueHDi 100 engine, the C4 Cactus is one of the most economical cars on sale, capable of an astonishing 91.1mpg. Plus with CO2 emissions of 82g/km, it won't cost you anything in road tax.
There are also two 1.2-litre petrol engines available with either 82hp or 110hp. The latter is our favourite because it's nippy around town, powerful enough for motorway trips and is still capable of 60.1mpg.
Lightweight for low bills
It's not just efficient engines that keep running costs down. Citroen has kept the C4 Cactus' weight as low as possible. Some models tip the scales at just 965kg, which is around 235kg less than a normal Citroen C4 hatchback.
Tricks like weight-saving hinged rear windows and a single-piece rear seat pay dividends at the fuel pumps. The C4 Cactus might look like an SUV, but its running costs couldn't be more different.
Enticing pricing
Given Citroen's radical approach, and the impressive amount of standard equipment, it's even more remarkable that the C4 Cactus costs from just £12,990.
That said, our pick of the range is the 1.2-litre Puretech 110 engine in Feel trim, and at £15,890 it's worth every penny.
The complete package
When you consider the price alongside the efficiency, economy, comfort, technology, personalisation, practicality, innovation and style, you can see exactly why the Citroen C4 Cactus was named as the 2015 Carbuyer Car of the Year!