Watchdog: Shock £200 bill to keep SEAT sat nav up to date
Reader gobsmacked at annual cost of £200-plus to update Leon ST's mapping
Car owners are now faced with more choices of navigation systems than ever before with a wide range of mobile apps and portable devices on offer.
Yet many drivers still opt for the car manufacturer's own integrated set-up, which means fewer wires. However, many of these systems come with hidden costs, as John Tellick, from Surbiton, Surrey, found.
The long-time SEAT customer was taking his Leon ST for a service when he found the sat nav – a £945 option – would cost £102 to update, with an added £25 charge for the SD card. The system requires an update twice a year, meaning John would need to spend over £200 annually to keep up with the latest mapping. John expressed his confusion to Carbuyer's sister magazine, Auto Express: "There was no information on SEAT's website informing me of the costs or frequency of the updates. It seems to me that a six-monthly update is too infrequent."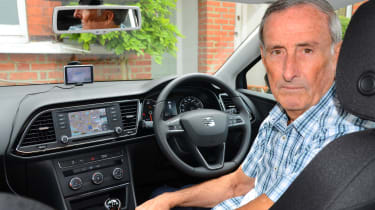 John cited a case where he was lost in Belgium due to the system failing to recognise road changes. In comparison, a portable Garmin nüLink! 2340 can be acquired for less than £200, with a Europe-wide Garmin Lifetime update for £75. Garmin systems update more frequently, too, as John told us: "Going by Garmin's past map update frequency it would cost a minimum of £612 to update my SEAT's sat nav to a similar level."
John did find a way to install the SEAT update himself, but it requires a third party website, the download of 12 separate files, and "a lot of computer literacy". John was also left unsure whether this would invalidate his warranty on the vehicle.
Auto Express contacted SEAT to find out why the cost was so high and whether the manufacturer's warranty is invalidated if owners manually update the system.
A SEAT spokesman said other makers charge similar fees for an update, and added: "The costs come from the fact the system is integrated to the vehicle and we have to purchase the software externally." SEAT couldn't confirm if the download would invalidate John's warranty. But it's unlikely SEAT would pay for repairs if John's attempt to manually update the system went wrong.