Watchdog: Owner calls a halt over C-Class autobrake glitch
Car rejected after Autonomous Emergency Braking set-up cuts in for no reason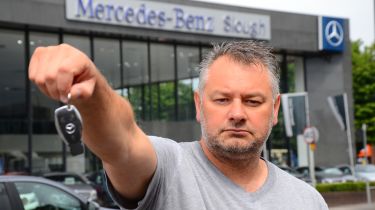 Saftey is a priority for most car buyers, which is why options such as Autonomous Emergency Braking (AEB), lane departure warning and other crash-prevention systems are increasingly popular.
But what happens when these systems work against the driver? One reader of Carbuyer's sister site, Auto Express, Sean Ali-O'Brien of Bagshot, Surrey, found himself struggling to cope with the AEB set-up on his 2014 Mercedes C220 when it began to malfunction. "The car would do an emergency stop at 40mph on a clear road," he told Auto Express. Sean called Mercedes Roadside Assist after each incident, and on both occasions the roadside technicians found electrical system faults.
However, when Sean took his C-Class to Mercedes Chelsea in West London, staff couldn't find a single fault. He said: "The dealer told me the system is supposed to do this, as it picks up dips in the roads." Yet five days later, when he drove it to supplying dealer Mercedes Slough in Berks, mechanics found faults in the AEB system, rear cameras and other electronics, leaving him confused.
Sean had purchased the car for his wife to use for her daily commute, but he now felt neither of them was safe in it. "No one will understand what it's like for a car to do an emergency stop without cause. I just can't trust it any more," he explained. "Every time the system bleeps, my wife now grabs hold of the seat. Twice we've been told we got lucky not to have been hit by someone else behind us."
Frustrated by Mercedes' efforts, Sean called the consumer desk at Auto Express for help. He'd been burdened by the problems since March, and wanted his deposit returned plus his six months of payments in return for giving back the car. We contacted Mercedes, which told us its technical teams were unable to find any faults with the car despite numerous attempts, but that it understood Sean's case.
It agreed to refund the £2,000 deposit and the first three months of payments. A spokesman said: "Any problem affecting a new car is frustrating, and in this instance an amicable agreement was made with Mr Ali-O'Brien." Sean expressed his gratitude, saying: "Thank you for all the help; having Auto Express involved sped up the case."