Watchdog: Kit confusion as Toyota Auris shakes up specs
Colin is left baffled as new Auris Design is delivered without the sat-nav he was expecting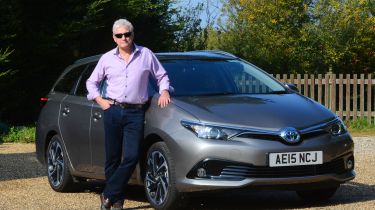 The oldest trick in the dealer book is to showcase a car with more goodies than the one you're ordering, as you'll either covet the kit in the one you're testing and opt for an upgrade, or you'll mistakenly assume your entry-level model will look and feel the same as the range-topper you've driven.
Either way, the dealer is quids in. But this can leave buyers feeling cheated – buyers like Colin Lippitt of Saffron Walden, Essex. He called us after his new Toyota Auris Touring Sports Hybrid was delivered without the sat-nav he'd been expecting.
Colin had been told that the Icon Plus model he'd taken out for a spin was being replaced by a trim level called Design, yet no one had mentioned that sat-nav was being moved to the options list.
When he complained to dealer Toyota Cambridge, he was directed to the bulletin he'd been E-mailed after ordering the car. It did list sat-nav as a £740 option, but Colin moaned: "This is not at all clear on the paperwork and was not pointed out to me by the salesman during the test drive."
He argued that the car was therefore mis-sold, and asked the dealer to retrofit sat-nav to his car for free. It initially agreed, according to Colin, but Toyota then claimed it was not possible. We agreed the bulletin was confusing, and the dealer should have made the car's specs clearer, so we called Toyota to take the case up.
Its spokesman admitted the bulletin should never have been sent to Colin in the first place, as it was "an internal company document", and "not what a customer should be seeing". He added there was a dedicated customer brochure online that Colin should have been directed to instead.
He also confirmed: "Customer services incorrectly stated that sat-nav could not be retrofitted to his car," before adding that Toyota would now "offer to fit it for free".
Colin still isn't satisfied, though, and now argues this is too little too late from Toyota. Based on his experience and concerns over the car's economy figures, he has instead written to Toyota Finance with his decision to reject the vehicle, and is awaiting its response. "I've lost faith in the car and all confidence in the dealership," he said.
Read more consumer stories - Car problems: your questions answered