Watchdog: Ombudsman rules in favour of Picasso owner
Reader wins £4,400 claim against Citroen after protracted dispute with company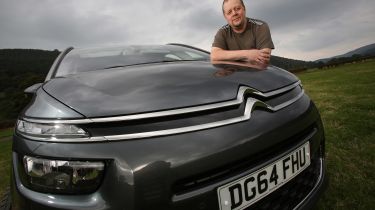 Taking your case to the Financial Ombudsman is a last resort after all other avenues of redress have been exhausted. It can be a long and arduous process, but if you've got a solid case, it might just be worthwhile. That's what Ralph Ferneyhough, from Corwen, Denbighshire, found after the Ombudsman ruled in his favour over a faulty Citroen Grand C4 Picasso.
Our sister publication Auto Express first reported on Ralph's issues in September 2014. They assisted him in getting a replacement car from Citroen after electrical faults affected the car's Bluetooth, parking sensors and the instrument panel.
Unfortunately for Ralph, the new car wasn't free of problems. A rattling dash plus issues with the eMyWay sat-nav system and the driver's door window all caused concern, and left him feeling helpless. After trying – and failing – to get repairs or answers from either Swansway Citroen Chester or Citroen customer services, Ralph decided it was time to take his case to the Financial Ombudsman.
It was a wise move as, after a hearing, the Ombudsman ruled in his favour. Ralph will have his original £2,500 cash deposit and his trade-in allowance of £600 refunded to him, plus three months of finance payments, £200 compensation and the cost of the technical inspection. The payout totals £4,400.
Ralph told us that while this didn't fully reimburse him for costs and inconvenience, it was a good result. He added: "I can't continue this fight any longer. I've spent 20 months fighting this case, and never had the full enjoyment of the car. Now, I just want to move on. I'm picking up a new Skoda Superb Estate next week." He continued: "I've been a Citroen driver for 28 years. No more. I, and my family, will never go near a PSA car again. Its customer support has been shocking."
A Citroen spokeswoman told us: "We always aim to find the best outcome for our customers. On the rare occasion where we haven't been able to come to a resolution, we will of course respect the decision of the Financial Ombudsman Service and act in accordance with its recommendations."