Airbag defect triggers recalls of 4.4m Fiat, Honda and Chrysler models
Fault with Continental-supplied airbags affects 4.4 million vehicles worldwide, 1.2 million of which are in Europe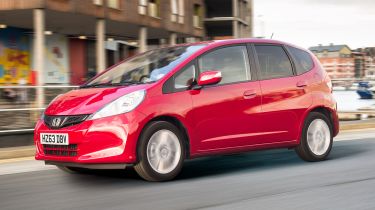 Over 4.4 million Fiat, Honda and Chrysler vehicles worldwide will be recalled by Continental Automotive Systems – a subsidiary of Continental AG (better known for making tyres) – due to a fault in some of the airbag systems it has supplied for them.
Approximately 1.2 million of the faulty items are thought to have been fitted to European cars, and while there's no confirmation from Honda as to how many UK cars have been affected, Fiat Chrysler Automobiles (FCA) says around 1,000 UK examples of the 2009-model Dodge Journey and Chrysler Voyager have been affected.
More Honda models have been affected, but as yet there are no concrete details on how many UK cars are affected (Honda UK says this will be clarified as soon as possible). Honda Europe has confirmed that some examples of the following models will be affected in Europe:
CR-V (2007-2011)
CR-Z (2011-2015)
Jazz (2009-2014)
Insight (2010-2014)
Continental has recalled the cars because of an issue with propellant tablets (the explosives that cause airbags to rapidly inflate). It says that after a certain period of time, the tablets may change, which could cause a more-violent-than-necessary combustion should the airbag need to be deployed. As yet, there have been no reports of any such incidents occurring.
You may remember the Takata airbag crisis of last year, where 6.5 million vehicles were recalled by the Japanese company on top of an existing multi-million recall issued surrounding airbags potentially deploying accidentally. Honda has already stated that there may be some overlap with existing recall notices.
If you're concerned that your car may be affected by this recall, get in touch with the manufacturer's UK customer service team, who'll be able to advise you further.
Let us know in the comments box below if you've been affected by any airbag-related recalls in the past 12 months or so.