Cutting-edge tech for new Ford Kuga
New Ford Kuga premieres latest SYNC 3 infotainment system and features revised styling inside and out
Further details of the new Ford Kuga SUV are now public knowledge, along with specifications for the forthcoming upmarket Vignale version. This will join the Ford Edge, Ford Mondeo and Ford S-Max in having a Vignale version on the market.
You'll notice big design changes for this latest iteration of the Ford Kuga SUV, with sharper, edgier design, while the revised SUV will also get a host of new technologies, as well as a vast array of safety kit.
It's the latest in a line of five revised or all-new Ford SUVs and crossovers that will come to market in the next three, alongside the new Ford Edge, revised EcoSport and two others.
Ford Kuga technology and SYNC 3
Both Titanium and the new Vignale versions of the revised Kuga will get the all-new Ford SYNC3 infotainment system. This new system gets more advanced speech recognition software that allows you to control things like the satellite navigation, media, heating and phone functions using more natural conversational tones. For example, saying something like "I need a coffee" will task the sat nav with locating and navigating you towards the closest coffee shop.
SYNC 3 uses an eight-inch touchscreen with improved graphics and larger buttons, and supports smartphone-style 'pinch and swipe' gestures. It also supports Apple CarPlay and Android Auto technology, while its software can be updated over a wi-fi connection.
A new Perpendicular Parking function is the latest development of Ford's Active Park Assist technology, which can steer the Kuga into parking bays and was chosen by almost half of Kuga buyers last year. The new system can detect parking spaces at 90 degrees to the car, and steer into them while you control the accelerator and brake.
Other parking assistance features include Cross Traffic Alert, which warns of approaching vehicles when reversing out of a parking space, and Park-Out Assist, which takes care of the steering when you're exiting a parking bay.
The Kuga's Active City Stop autonomous emergency braking system now works at speeds of up to 31mph, up from 19mph. And a new version of Ford MyKey allows you to programme a key for younger drivers that will restrict incoming phone calls, limit the car's top speed and stereo volume and remove the ability to switch off the traction control.
Styling
Changes to the look of the new Kuga are designed to bring it into line with those of the Ford EcoSport and Edge SUVs. It features a larger grille, new headlights, rear lights and bumpers. Wheel sizes of 17, 18 and 19 inches will be offered, while a new colour, Copper Pulse, will be available across the range.
As well as a tailgate that can be opened by waving your foot under the rear bumper – a feature fitted to one in three Kugas last year – the new model will feature a retractable tow bar that stows out of sight when not in use.
Interior
The Kuga's interior has been upgraded to offer a "more ergonomic, stylish and comfortable experience for occupants", according to Ford.
The company has reduced the number of controls on the steering wheel and for the air-conditioning, with the aim of making the car's systems easier to operate. The new Kuga now has an electric parking brake to improve storage space in the centre console, while a heated steering wheel will be available on some models.
Ford's European product boss Joe Bakaj said: "Ford is delivering a European SUV line-up that offers the stylish design, car‑like dynamics and sophisticated technologies that consumers desire. Demand for SUVs is stronger than ever and Ford is expanding its range to offer everything from rugged models with true go-anywhere ability to sporty models designed to suit urban lifestyles."
Vignale
This generation of Kuga will be the fourth model in the Ford line-up to get the Vignale treatment. While it is, ostensibly just a plusher trim level, there are other benefits to it than just a nice leather interior and more kit. Ford is keen to point out that you also get a better ownership experience, including access to exclusive offers, having your car picked up and dropped off when it needs a service as well as more exacting production standards.
Obviously, the Kuga Vignale will get a heap of extra kit as well. It gets the aforementioned voice-activated SYNC 3 infotainment system, as well as all the kit that's included with that. This means DAB radio, satellite navigation, Bluetooth, USB connectivity and all the other mod cons you'd expect.
As well as more technology, there's also a much plusher interior, including quilted leather upholstery for the seats, doors and instrument panel. On the outside, there's also a new choice of paint colours, including the colour shown here – pearlescent metallic Milano Grigio colour, with hints of rose metallic in there too. There are also dark gloss effect finishes for the front and rear skid plates and boot trim. Like all Vignale models, you also get an hexagonal mesh grille.
Vignale versions are also only available with a select bunch of engines and gearboxes. There are two petrols and two diesels. The petrols are both 1.5-litres in capacity and are turbocharged. They produce 148 and 180bhp respectively, while the more powerful model is only available with an automatic gearbox and four-wheel drive.
Alternatively, you could go for what will likely be the engine of choice for most Kuga buyers: one of the two 2.0-litre diesels. These manage either 148bhp or 178bhp and, while the former can only be had with front-wheel drive and a six-speed manual, the latter can be specified with either a manual or automatic 'box. Meanwhile, four-wheel drive on 178bhp versions is standard.
Engines & drive
The 2016 Ford Kuga will feature a new diesel engine. The 118bhp 1.5-litre TDCi is available in front-wheel-drive configuration and Ford claims it's capable of 64.2mpg, with carbon-dioxide emissions of 115 grammes per kilometre.
A 2.0-litre TDCi diesel will also be available. This 148bhp engine will be offered with front or four-wheel drive, will return from 60.1mpg and emit from 122g/km of CO2. A 178bhp version of the same engine will be capable of 54.3mpg and 135g/km.
Although diesel engines are likely to remain the mainstay of the Kuga range in the UK, three 1.5-litre EcoBoost petrols will be available. The front-wheel-drive versions produce 118 and 148bhp and record 45.6mpg and 143g/km, while a 180bhp four-wheel-drive version will return 38.2mpg and emit 171g/km of CO2.
The new Kuga features Curve Control, which can improve cornering grip if you enter a bend too quickly, and Torque Vectoring Control, which brakes the inside wheel when cornering to further improve grip and stability.
Four-wheel-drive models are underpinned by Ford's Intelligent All Wheel Drive system, which is able to adjust the amount of power sent to each wheel to improve grip in slippy conditions.
Ford's Joe Bakaj said: "Sophisticated technologies like our Intelligent All Wheel Drive enhance safety and confidence for our customers. Intelligent All Wheel Drive measures how the car's wheels are gripping the road surface and can make adjustments in less than 20 milliseconds – 20 times quicker than it takes to blink."
Price & on sale date
Although there are no concrete details on pricing as yet, we expect you'll have to pay a small premium of about £1,500 over the current Kuga's price, while Vignale versions are likely to start at around the £30,000 mark. The new car will go on sale later this year, with first deliveries beginning at the end of 2016.
Ford Kuga Titanium review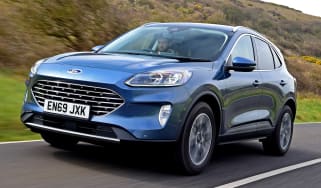 Ford Kuga Titanium review
Updated Peugeot 5008 starts at £29,585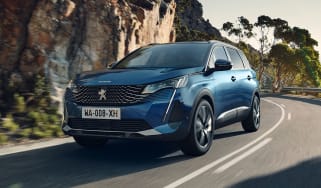 Updated Peugeot 5008 starts at £29,585
Cupra Formentor SUV review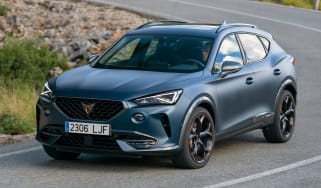 Cupra Formentor SUV review
2020 Volkswagen ID.3 hatchback: base model starts at under £30k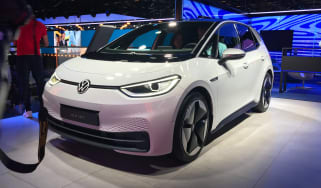 2020 Volkswagen ID.3 hatchback: base model starts at under £30k