Watchdog: Replacement screen causes Qashqai chaos
Owner shocked after being told radar can't be recalibrated on replacement screen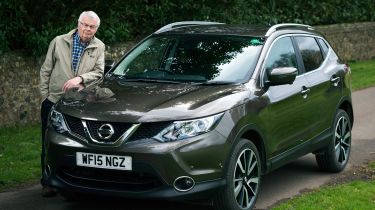 Carbuyer's sister site Auto Express recently reported how thousands of motorists are risking their safety by not recalibrating radar-controlled driver assistance systems after replacing windscreens.
Shortly after, the Auto Express consumer desk was contacted by a reader who said he'd recently had his windscreen replaced, and was finding it impossible to get his auto safety systems updated. Sidney Gibson, from Lyme Regis, Dorset, got in touch with us after Autoglass – and his dealer – failed to recalibrate radar in his new windscreen.
"Despite Autoglass's claim of being able to recalibrate 96% of all cars, I was told the Nissan Qashqai isn't one of them. Strange, as it is one of the best selling cars in the UK" Sidney told us.
He then contacted Nissan Customer Services for advice. He said: "It told me it wasn't aware of the task, and said I had to find a dealer able to do the repairs."
Auto Express contacted Nissan to see if they could help Sidney get his radar recalibrated, and managed to organise for him to take his car to a dealer in Exeter to carry out the work for the recalibration. But he left disappointed. "After half-a-day's work, the system still doesn't work. I was told there was an unexpected failure, but luckily I wasn't charged." Autoglass then offered the chance to have the windscreen recalibrated free of charge.
A spokeswoman from Autoglass said: "We will be able to calibrate the Qashqai within weeks, adding to what we believe is our unrivalled 96% coverage of the UK car parc. It's a complex process to add models to the diagnostic tool, involving securing intellectual property rights, and validating the software."
A Nissan spokesman said all of its dealers should be able to recalibrate the forward-facing camera after a windscreen replacement on a Qashqai.
He added: "There appears to have been an issue with the initial recalibration at JFE Exeter Nissan, and we offered to have the dealer recalibrate the car again, but the customer had already booked Autoglass to carry out the work. We will offer any further assistance should it be required."