All-Electric mode for Mitsubishi Outlander PHEV
Equipment and technology updates for plug-in hybrid SUV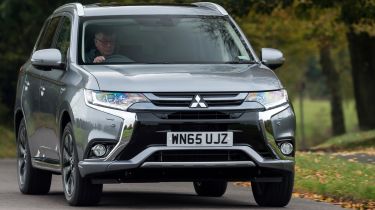 The Mitsubishi Outlander PHEV has been a big hit for its Japanese maker, with global sales passing 100,000 earlier this year. The plug-in hybrid SUV now counts for almost a third of the plug-in or electric cars on the road in the UK.
To maintain this success, Mitsubishi has launched an updated version of the Outlander PHEV. The changes all concern equipment and technology, so the latest version looks essentially identical to the old one, other than new LED front fog lights.
One of the biggest changes is the addition of an 'EV priority switch', which allows you to keep the car in full electric driving mode. Normally, the car's 2.0-litre petrol engine would cut in to assist the electric motors as required, but the new switch will allow purely electric journeys within the batteries' maximum range. This should result in fuel savings on both short trips and slightly longer journeys where the car can be charged at its destination.
The updated Outlander PHEV also gets an electric parking brake with hold function, plus a Smartphone Link Display audio system that lets you link your phone to the car's infotainment system in order to use it safely while driving. Both Apple CarPlay and Android Auto are supported.
New safety technology includes blind-spot warning and rear cross-traffic alert. The first lets you know when a vehicle is in your blind spot, helping you avoid a collision with something you may not have seen in an outside lane, while the second helps you avoid reversing into oncoming traffic when pulling out of a parking space or driveway.
A pedestrian-detection function has been added as part of an improved forward collision mitigation system, which should stop drivers from hitting cars and people walking between them in heavy traffic.
In addition to the new LED front foglamps, the new Outlander PHEV also has automatic high beams and an AC 1500w power supply, which allows you to connect electrical equipment rated up to 1500w for around four hours solely on battery driving.