Watchdog: Owner takes stock on faulty lock and barrel
Claire complained when Jeep's key stuck, but dealer told her someone must have damaged it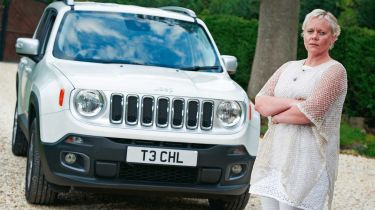 Getting locked out of your car when you've dropped, lost or forgotten your keys is irritating. But it's not nearly as frustrating as when you're armed with the right key and still can't get into your new vehicle.
Reader Claire Lainchbury, of Thorner, West Yorks, told us she was frequently left stranded in her 15-plate Jeep Renegade with the key often stuck in the ignition.
Claire bought the car from Motorpoint Birmingham in May, when it was just 10 months old. She explained: "I'd only owned it a few months when I started to notice that sometimes the key wouldn't turn in the ignition, or it would turn, but then you couldn't get the thing back out."
She wasn't the only owner experiencing this, either. Claire added: "I decided to check it out on a Jeep forum, and sure enough, other people have had the same problem."
As its first service was due, and her car had been recalled for a software update, Claire booked the car in to local Jeep dealer Arnold Clark Leeds, and asked staff to check the intermittent fault, too. But the dealer concluded the ignition must have had something jammed into it, damaging the barrel, so refused to cover it under warranty.
Claire argued: "If that was the cause, then surely the lock would never work. I can state for a fact that neither me or my partner has done anything to damage the lock." She also claimed the software update "seemed to make the problem worse, initially".
We contacted Jeep to find out more, and a spokeswoman confirmed the ignition had been damaged, but could only speculate as to what had caused it, as "we do not know how the car was treated by the previous owner". However, she added: "This certainly shouldn't occur on the vehicle through the everyday use of the original keys." And, despite the forum activity, she claimed: "We are not aware of any similar complaints."
The good news for Claire, however, is Jeep is now offering to fix her car free of charge. Its spokeswoman told us: "In order for us to evaluate what is failing inside the barrel, we would need to remove it. As a gesture of goodwill, when we remove the current barrel for us to evaluate, we will replace it with a new one for this customer."