Top 10 best cars for winter 2023
We select a great group of 4x4 cars to help keep you on the road and moving this winter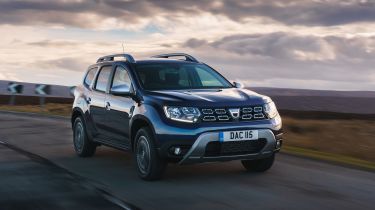 There aren't many certainties in life, but you can be sure of at least one thing; and that's that every year, as soon as Autumn arrives, British newspapers and websites will begin to publish apocalyptic headlines about blizzards, big freezes and all-round snow chaos. The truth of the matter is that this country doesn't usually suffer from winters anywhere near as harsh as some of our European neighbours, but that doesn't mean we shouldn't be prepared for winter conditions.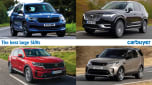 Top 10 best large SUVs 2023
Though they may not be severe enough to bring the country to a standstill, adverse winter driving conditions in the UK are still very common. Rural areas can easily be cut off when snow, ice and floods occasionally wreak havoc, and some hills and roads can become treacherous in poor conditions. Motorists that want a good car in bad weather often depend on four-wheel-drive vehicles when these circumstances arise, particularly in locations where gritting lorries don't operate.
The key to safe motoring in icy, snowy conditions is traction and grip. Having plenty of grip means the car will obediently stick to the road when you're moving and, most importantly, help you slow down again. Having good traction allows you to actually get moving in the first place, too, with the engine's power being applied to the road effectively, rather than just spinning the tyres.
Four-wheel drive is a definite advantage when the roads get slippery, and if you're buying an SUV for this reason, make sure it actually does have four-wheel drive. Not all do, however – the Peugeot 3008, for example, is front-wheel-drive only, while the Ford Kuga only offers it on more powerful flagship versions.
When four-wheel drive is optional, it tends to add around £1,500 to a car's purchase price and usually reduces fuel efficiency by 5-10%, thus increasing running costs. You may find that, rather than a big, bulky SUV, you'd rather have a compact hatchback or estate and many of these are now available with four-wheel drive for greater grip. You may also want to consider if four-wheel drive is necessary at all, or if a car with winter tyres or clever electronics may be enough, and we'll discuss this below our top 10 list.
Our list covers the best cars we'd like to be driving in winter when the roads turn tricky.
If you thought you couldn't afford an SUV, the Dacia Duster could make you think again, because it's closer in price to a supermini than most rivals. That doesn't mean it's flimsy or short on ability, with more than 200mm of ground clearance and the option of four-wheel drive making the Duster an impressive machine off road and in slippery conditions. The second-generation Duster is also slightly bigger and more comfortable inside than before, with neater looks that make it even more desirable.
The Duster is currently available in four trims but you'll need to eliminate the entry 'Essential' model from your list if you want all-wheel drive. Dacia also only offers the 4x4 Duster with a diesel engine making the entry price around £20,000 which will get a mid-level 'Expression model' 4x4 model equipped with a 1.5-litre diesel engine. That is still over £5,000 cheaper than the entry-level Ford Focus, making the Duster quite a bargain.
We regard the BMW 3 Series as one of the best cars on sale in the UK in terms of all-round ability, and the Touring estate adds practicality into the mix. In truth, its 500-litre boot isn't the biggest out there, but it's far more versatile than the saloon. Compared to rivals we were impressed by the great handling of the 3 Series Touring, although the brand doesn't score so well with owners, only managing 16th out of 29 in our Driver Power 2022 Survey.
Partnership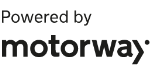 Need to sell your car?
Find your best offer from over 5,000+ dealers. It's that easy.
The Touring offers a huge range of engine and trim choices and those who regularly encounter wintry conditions will find BMW's xDrive four-wheel-drive system fits the bill. It's available on the M340i petrol, 320i, 320d and 330d diesels, as well as the 330e plug-in hybrid. The extra weight and mechanical drag of the system increases fuel consumption, too (though the 320d xDrive Touring's combined fuel economy of over 50mpg is hardly disastrous), but this may be a sacrifice worth making for extra security on slippery roads, and it helps put the 3-series' power down a little easier even when it's dry.
The Land Rover Freelander firmly established the famous British maker of all-conquering off-roaders as a big player in the more road-friendly compact SUV field and the Discovery Sport takes this hugely successful formula and runs with it. Like every other car bearing the Land Rover name, the Discovery Sport is as capable in the rough stuff as you're ever likely to need, but feels at home on tarmac, too. It's here that many owners will find the Discovery Sport's selectable four-wheel drive comes into its own, particularly when the weather turns.
Traction and grip are assured by big, wide tyres, making winter driving far less of a challenge. But it's the 'terrain response' system that enables the Discovery Sport to tackle roads that many rivals would find unpassable. It has separate modes for mud and snow, and knows exactly how much power to apply to keep you moving in the trickiest conditions. Combine this ability with good looks, a family-friendly interior and frugal engines – a plug-in hybrid (PHEV) model is now available, promising a little over 140mpg, while a pair of 2.0-litre diesels (with 163bhp and 201bhp) offer around 40mpg combined – plus four-wheel drive, and the Discovery Sport is a potent (if slightly costly) SUV package. 
Not everyone who regularly encounters poor driving conditions wants an SUV and Subaru has been serving this audience for decades. Since the 1970s – when Subarus were first sold through agricultural equipment suppliers – full-time four-wheel drive has been a brand trademark and it adds to the Outback's unique appeal. Subaru has now made several generations of Outback, each based on the estate version of the Legacy but dressed up with tougher bodywork fixings and riding on raised suspension for extra ground clearance – a recipe that brands like Volvo and Audi have since replicated with their Cross Country and Allroad models. The latest Outback is yet another large, practical estate, with a well built (if rather plain) interior, which can negotiate rough roads and keep going in wintry conditions like few other cars.
You can now only choose a characterful flat-four 2.5-litre petrol engine – the 2.0-litre diesel engine is no longer offered – that returns around 40mpg. While the Outback's slightly high-set posture means it can't match more traditional estate cars for responsive handling and resistance to body lean, it's far less likely to be caught napping when the weather turns nasty. For those who come to depend on the Outback's ability to deal with rough road conditions, a slightly dull design ceases to matter on a car whose reliability has been so well proven.
Winter driving can be tough for drivers who want a more performance-orientated model, with rear-wheel drive cars becoming challenging to drive when road conditions worsen. The 316bhp Golf R is the answer many will turn to, thanks to its grippy all-wheel drive, which not only aids its acceleration, but also makes for a great year-round driving experience. Volkswagen has even managed to maintain a nearly identical boot size to the basic front-wheel drive Golf models so you won't have to compromise on what you can carry.
We advise sitting in the new Golf R and checking you get on with the infotainment controls before making a purchase, as some may find navigating the touchscreen and haptic controls frustrating. More worrying though, is the recent slip in owner satisfaction for the Golf model in general, which finished in bottom place in our 2022 Driver Power Survey.
If you are ready to switch to EV, but need a capable all-wheel-drive car for tough winter conditions, the Jaguar I-Pace is one of the strongest contenders on the EV market. We've been impressed by just how good the I-Pace is, especially considering it's the firm's first all-electric car. Its blistering acceleration is on par with the firm's sports cars rather than an SUV, and it feels better to drive than most other EVs too.
Although the I-Pace is an SUV with a coupe-like body, inside it's still spacious enough for a family thanks to its compact electric motors, and boasts a large 656-litre boot. 
Just be aware that prices can rise steeply as you look at trims above the entry 'S' model, or venture onto the options list.
The current generation of the I-Pace has been around for a little while now, and it won our Best Used Large Electric Car category at the 2023 Carbuyer Best Car Awards.
You don't necessarily need to opt for a large SUV to benefit from all-weather traction. Suzuki has long offered all-wheel drive on a wide variety of cars, from the expected (the Jimny and Vitara) to the more conventional (the Swift), and the Ignis is another car in that vein. It's essentially the spirit of an SUV condensed to the size of a city car, with rugged and slightly retro looks (Suzuki claims influence from several of its past models), but in a platform that's easy to park and boasts low running costs.
There's no diesel on offer, but opt for the ALLGRIP 4x4 model and you get Suzuki's 89bhp 1.2-litre mild hybrid "Dualjet" engine. You take a small hit in terms of economy, with just over 50mpg to the two-wheel drive car's fuel consumption of over 55mpg, but only lose a tenth of a second on the 0-62mph time, so you'll probably not notice any difference in the way they drive on the road. Until the road gets slippery, that is, and thanks to the 4x4 system and the Ignis's slightly raised ground clearance compared to some rivals, it should make light work of wintry conditions.
The C3 Aircross is a bit of an odd one out here in that it doesn't power all four wheels. But that doesn't mean it's hopeless in winter, thanks partly to a technology that Citroen calls "Grip Control". This is very much like the complex drive modes offered on vehicles like the Land Rover Discovery Sport, but operates on the C3 Aircross's driven front wheels alone. Sand, All-Road, Snow, and ESP-off modes are all available, varying the level to which the traction and stability controls work, according to the properties of the road. It also has hill-descent control, much like those Land Rovers, to keep you in control down steep slopes.
The Aircross naturally features a higher ride height than the standard C3 too, though in many other respects it's quite similar to the supermini, with a wide range of engines, a comfortable and smartly-styled cabin, and quirky exterior styling that stands it out from others in the class. And because Grip Control is an electronic system rather than a full 4x4 drivetrain, there's no significant cost or economy penalties either. With a set of winter tyres it'll make light work of snowy roads.
The Jeep Renegade comes from a brand famous for its rugged four-wheel drive SUVs and so it should be no surprise to see one on our list of best winter cars. The 4xe model is the plug-in hybrid version of the Renegade and is our pick of the range for its fuel efficiency of up to 134.5mpg, helped by its electric driving range of around 25 miles. It also retains several dedicated all-wheel drive modes to tackle tough terrain, so those in rural communities struggling with frozen streets and snowy hills shouldn't get stuck when bad weather arrives.
Aside from the Renegade's offroad abilities, it has lots of interior space for passengers and luggage, and doesn't miss out on the tech fitted in similarly priced premium cars. The driver gets a digital display and an 8.4-inch infotainment screen with Apple CarPlay and Android Auto, although there are still plenty of physical buttons and dials for features like the climate control, making the car easy to operate wearing thick gloves.
SsangYong has been selling cars in the UK for decades now, but the South Korean carmaker still seems to be less well-known than compatriots Kia or Hyundai. The brand made its name building tough and reliable army trucks, and some of those sensibilities have made it into the SUVs it builds today, which can comfortably deal with the worst a British winter can throw at them. The Korando is the company's mid-size offering, designed to compete with family SUVs like the Nissan Qashqai and Peugeot 3008. It has smart, modern looks and an impressively well finished interior. Looks-wise, it falls somewhere between SUV and large hatchback, and its bulky shape conceals a spacious interior and a boot bigger than most rivals.
The Korando used to be offered with a four-wheel drive option for diesel engine models, however, all drivetrains now only come with two-wheel drive. However, on-board safety systems and a winter mode for its electronic aids mean you should still be able to navigate poor winter weather with confidence. Those who need to tow will want the 1.6-litre diesel for its 2,000kg limit, although the 1.6-litre petrol can pull 1,500kg if you only need to haul lighter trailers or a medium-sized caravan.
Do you need four-wheel drive to drive in winter?
While investing in a vehicle with four-wheel drive is one option, it's worth asking yourself whether you actually need it. You're likely to only require four-wheel drive just one season a year and there could be cheaper ways to prepare for winter. A good set of winter tyres, for example, will give you extra confidence in wintry weather, as they're designed to stick to the road at temperatures below seven degrees centigrade.
 It might sound strange, but even a small city car can be a good companion when temperatures plummet. While their skinny tyres may find less traction than the wide rubber on an SUV, light cars don't need as much traction to get moving in the first place, and their low weight makes them easier to control when cornering and braking. A big 4x4 might get going easily, but bringing them safely to a stop is just as important, and you may find that their additional weight makes them skid in extreme conditions.
Modern electronic systems are also pretty good at dealing with snow, but a set of good winter tyres or the security of all-wheel drive will mean you don't have to rely on electronic help quite as much.
Want to find out more about driving in winter conditions? Check out our winter driving tips. If you want to read more about the best 4x4s on the market, click here for our guide to the Top 10 best 4x4s and SUVs.
Top 10 best cars for winter