BMW xDrive explained
We explain everything you need to know about BMW's xDrive all-wheel-drive system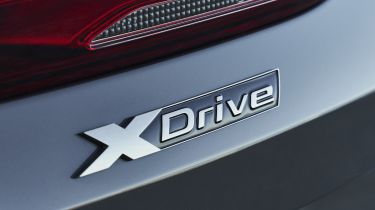 UK drivers are buying four-wheel-drive cars in larger numbers than ever before. This increase in popularity is partially down to the meteoric rise in SUV sales, and the continued growth of performance cars that come equipped with all-wheel drive as standard. One such manufacturer that has adopted four-wheel drive across its range is BMW, with what it refers to as xDrive.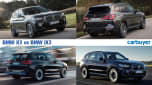 BMW X3 vs BMW iX3: which should you buy?
Even the more modest BMW models can be specified with xDrive, with the obvious benefits of improved grip and increased traction in bad weather. A majority of the BMW SUV range, including models in the X1, X3, X5 and X7 line-ups all come equipped with xDrive. But the firm also offers it on its long-standing hatchback, saloon and estate models, including the 1 Series, 3 Series and 5 Series. In recent years, xDrive technology has also made its way into their halo M Division models, with the M5 and M8 sending power to all four wheels.
xDrive rivals
BMW's closest rivals also offer similar systems, with Mercedes offering 4Matic on a number of its models, including the flagship Mercedes-AMG A45 S super-hatch. Audi's quattro all-wheel-drive system is arguably the most famous, and is available for the majority of its models, including the Audi SQ8 performance SUV.
Does xDrive improve BMW's cars?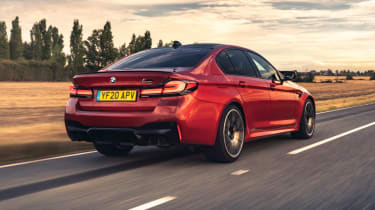 Historically, BMWs were always rear-wheel drive and it was a key reason for their popularity among driving enthusiasts, so the use of xDrive has caused some controversy. Despite this, a majority of the firm's range can now be equipped with it, giving the benefit of improved handling in bad weather and extra grip in corners. The downside is that it may make the car slightly less fuel efficient, it's not necessary all of the time and enthusiasts may find models with xDrive slightly less playful than their rear-wheel-drive equivalents when driven quickly.
What is BMW xDrive?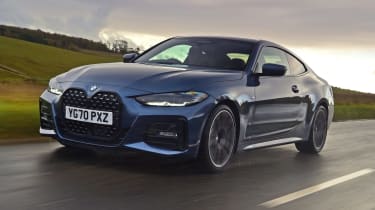 BMW xDrive is deemed to be an 'all-wheel-drive' system. However, while it is marketed across all of the range as the same system, it differs from model to model. In BMWs that are primarily rear-wheel drive (3 Series, 5 Series, X3, X5 etc.), xDrive distributes 40% of power to the front wheels and 60% to the rear wheels during normal driving. It uses a number of sensors to monitor when the wheels lose grip and automatically diverts power to the front wheels, rear wheels or to an individual wheel, depending on which has the most traction. This means that BMWs with xDrive are less likely to lose traction in bad weather, hard cornering or sudden changes of direction
Unlike a majority of other all-wheel-drive systems that are operated by hydraulics, xDrive for rear-wheel-drive cars functions via an electronically controlled multi-disc clutch, which is lightweight and can distribute power quickly when needed. When called upon, this set-up can send 100% of the engine's power to either the front axle or the rear axle in just 0.1 seconds. This is continually monitored by BMW's Dynamic Stability Control (DSC) suite of sensors and software.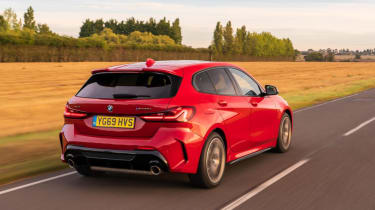 Things change when it comes to BMW's front-wheel-drive cars. Models such as the 1 Series, 2 Series Gran Coupe, X1 and X2 use a different system altogether. These cars instead incorporate a Torsen limited-slip differential for the front wheels plus a feed for the rear. During everyday driving on the road, only the front wheels are driven. However, the limited-slip differential is able to redistribute power between the front two wheels to maintain grip and if any slip is detected, this form of xDrive can send up to 50% of power to the rear axle.
Partnership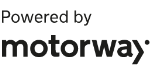 Need to sell your car?
Find your best offer from over 5,000+ dealers. It's that easy.
On BMW's performance-focused models, such as the BMW M5, xDrive does the opposite; it can be set to send a majority of the power to the rear axle, only distributing it to the front axle when there is a loss of traction. This gives the car a more traditional rear-wheel-drive feel while giving the car help in coping with enormous amounts of power.
Performance BMW models also feature Dynamic Performance Control. This uses the electronically controlled clutch plates of the xDrive system to reduce wheelspin in a given wheel by making the opposite wheel spin faster. This function is operated by the DSC system, which can apply braking force to any spinning wheel until it regains grip.
Problems with xDrive
As BMWs equipped with xDrive have an extra pair of driven wheels, the cost of servicing will attract a slight premium over maintaining a regular rear-wheel-drive model due to additional servicing and inspection requirements.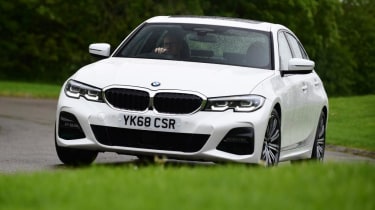 Another downside of all-wheel drive is a reduction in efficiency; as xDrive pushes power to all four wheels permanently and adds weight, it will inevitably use more fuel than a rear-wheel-drive model. A BMW 320d SE Drive equipped with rear-wheel drive can achieve a claimed 61.4mpg; equip the same car with xDrive and this figure falls to 57.6mpg.
Is BMW xDrive worth it?
If you're thinking of buying a new car, where you live, how you use your car and the weather you regularly encounter on journeys is likely to affect whether you want a car with four-wheel drive. After a flurry of snow or a downpour of rain, roads can quickly become treacherous. Often a two-wheel drive car on winter tyres would actually give you more grip, but all-wheel-drive systems such as xDrive will provide you with helpful extra traction in bad weather.
For those of you that want to do off-roading, then BMW's 'X' badged SUVs all feature xDrive as an optional extra and offer impressive performance both on and off-road.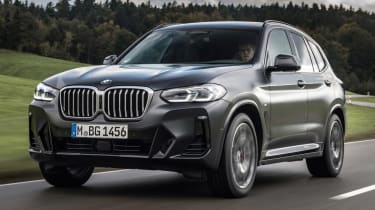 The BMW 3 Series range has been the benchmark in the executive car market for the past three decades, and the latest model is one of our favourite saloon cars. Concerns that the addition of xDrive would diminish its ability have proven to be unfounded. While the addition of all-wheel drive has affected the driving dynamics compared with a rear-wheel-drive model, the difference during normal day-to-day driving isn't really noticeable. In fact, BMW has so much confidence in the driving dynamics of its xDrive system that all UK 'M' models can be specified with it. The German brand has given the latest M5 the xDrive system but with the inclusion of a 'drift mode', allowing the car to send its considerable power solely to the rear wheels at the press of a button. This means that despite their latest lean towards all-wheel-drive, the rear-drive DNA of BMWs still lives on in some form.
Do you want to know more about BMW xDrive models? Why not read our in-depth reviews of the X5 SUV and the 5 Series saloon.