Hyundai launches 'five minute purchase' website
New Hyundai website seeks to make purchasing a new car even easier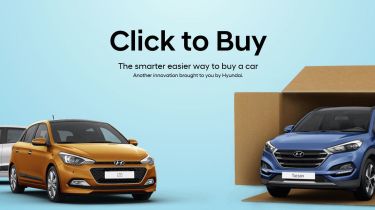 Click To Buy, a new feature from Hyundai that allows motorists to purchase a car completely online has launched today. Hyundai claims the entire process could be completed in as little as five minutes.
Customers can order new i10, i20, i30, Tucson and Santa Fe models today, although the number of models available to purchase online will increase later in the year. Hyundai says the website will display "competitive fixed pricing, completely removing the requirement to haggle to get a better deal on a new car".
Click To Buy allows customers to get a trade-in price for their old car, then choose and configure their new car online before arranging finance and paying a deposit using their home computer, tablet or even mobile phone.
Once that's completed, the customer will be able to make an appointment to take their part-exchange to a dealer, sign the documents and collect their new car. Customers will be able to do this in the evening or at weekends through selected dealerships.
Cash buyers could complete the entire transaction in less than five minutes, and for an extra cost, could have their new car delivered to their home and their trade-in collected.
Tony Whitehorn, president and CEO of Hyundai UK, said:
Tony Whitehorn, President and CEO of Hyundai UK said: "The [Click To Buy] site is simple, intuitive and importantly can save customers valuable time – in fact if you're paying by cash, the entire online process is possible to complete in about the same time as it would take to refuel your car. Through fixed pricing, the site also removes the need to negotiate which is a real benefit for those who feel uncomfortable doing so or simply don't have the time. Customers can even have their new car delivered straight to their front door.
"Consumers today demand choice and simplicity; they already expect to be able to buy a car in the same way that they'd be able to purchase their clothes or electrical goods online. This is a pivotal time for the car industry as a whole and the start of what I think will be a transformative period in terms of how people buy and own cars going forward. I'm delighted that we are leading the charge and we will continue to innovate within this space moving forward."