Explore the new Renault cars of 2017 and beyond (sponsored)
The next 12 months will yield a bumper crop of thrilling new Renault model. Here, we round up what you can expect…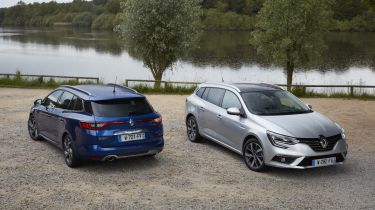 Renault has had a 2016 to remember, with a string of new models joining the range that have seized the public imagination. Even in light of the extraordinary success of cars like the All-New Mégane, new Clio and new Scenic launched over recent months, though, the next crop of new Renaults looks hugely exciting.
That's because Renault is moving forward into 2017 with a tantalising product plan stretching out ahead of it. The next instalment in this new generation of Renault cars is on the way, characterised by the kind of innovative design and advanced technology that have made recent additions to the range such a hit.
Here we explore some of the new Renault cars coming to a showroom near you in 2017, while also touching on the technology highlights that will keep Renault ahead of the game in the months and years beyond that.
Renault Mégane Sport Tourer: a new level of practicality
Renault's new Mégane has really shaken up the ultra-competitive family hatchback sector in 2016 but it's not done yet. The Mégane is spreading its wings into the compact estate class with the new Renault Mégane Sport Tourer.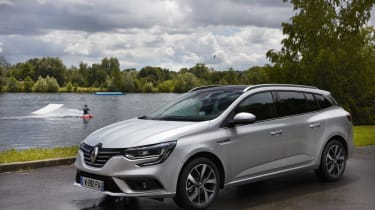 The Sport Tourer model brings a new level of practicality to the new Mégane family with a load volume of 580-litres. It's a family car with huge load carrying potential and yet all of the comfort, dynamic ability and design flare of the new Renault Mégane is also present.
The Mégane Sport Tourer is the first model of its kind to be made available with four-wheel-steering. Renault's 4CONTROL technology features on the Sport Tourer GT variant and applies steering angle to the rear wheels as well as those at the front - giving amazing high-speed stability and low speed control.
Of course, with the line-up of advanced dCi diesel and TCe petrol engines available, a fluid and efficient driving experience is on the cards whether you go for a standard Mégane Sport Tourer or the flagship GT.
In the cabin, even entry-level Expression+ cars will get daytime LED lights 16-inch alloy wheels, a leather steering wheel as well as Bluetooth and AUX connectivity as standard. Passenger comfort is also top of the agenda with rear passengers benefiting from an impressive 216mm of knee room. The Mégane Sport Tourer really is a family car with a remarkable breadth of talents.
Renault Koleos: SUV luxury for the active family
The Renault Koleos returns in 2017 with an all-new model set to enter the family SUV segment. Renault has delivered an SUV that sets new standards for interior space and practicality yet maintains a powerful, athletic exterior look that helps it stand out on the road.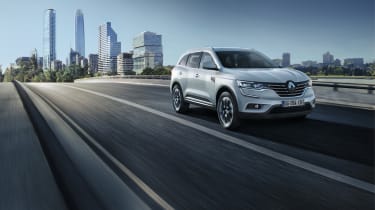 The Koleos is off-road capable with its user-friendly 4x4-i technology providing a choice of all-wheel-drive modes but it excels on the road where the extra traction and grip spells safer, more composed handling. This advanced technology means the Koleos will operate as a front-wheel-drive car when it needs to, extracting the maximum in efficiency from the turbocharged dCi diesel engines.
Inside, there's a huge 624-litre boot capacity and outstanding rear passenger knee room of 289mm. In the front, the multi-adjustable seats and elevated driving position produce a wonderfully comfortable driving experience while the R-LINK 2 infotainment tech is state-of-the-art. The Renault Koleos has been designed to help family life run smoothly and it does that with no small amount of style.
Renault Clio R.S.16: Renault Sport performance taken to the extreme
Renault has been a leading light in the world of the affordable performance car for decades. Its Renault Sport sub-brand has become a byword for finely honed hot hatchbacks that can embarrass machinery costing twice or three times as much on track.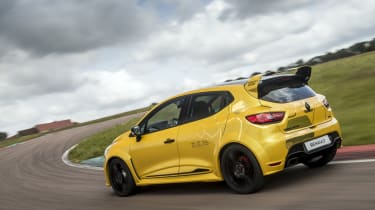 But Renault and Renault Sport didn't get where they are today by looking back at past glories and the future of the Renault hot hatch is very much in its sights, as we learned in 2016. Renault chose the 2016 Monaco Grand Prix to show us the Renault Clio R.S. 16, a concept car that sets a new performance benchmark for the brand.
The R.S. 16 was created to celebrate 40 years of Renault Sport and its return to Formula One. It's essentially the new Clio Renault Sport equipped with the engine, transmission and cooling system from Renault's ultimate production hot hatch to date, the Mégane R.S. 275 Trophy-R.
With a re-engineered exhaust system and its own tuned suspension, the Renault Clio R.S. 16 is a concept that shows Renault isn't about to give up its hot hatch crown in 2017 or the years that follow.
New Renault Twingo GT: yet more affordable fun from Renault
Renault has an enviable record when it comes to building small cars that are huge fun to drive with many of the brand's hot hatchbacks achieving legendary status with enthusiasts. The most recent addition to this long line of fast, fun, affordable Renaults is the New Twingo GT.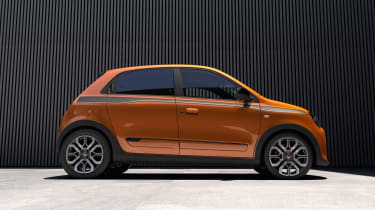 Drawing inspiration from the Twin'Run concept car that memorably wowed the crowds on its debut at the 2013 Monaco Grand Prix, the New Twingo GT is Renault's funky city car with extra potency courtesy of a 110hp turbocharged petrol engine. The 898cc TCe unit is a real firecracker with 170Nm of torque courtesy of a revised air-intake system and modified engine mapping.
To make the most of the extra muscle, the New Twingo GT gets revised suspension settings, a specially tuned ESP stability control system and variable rate power steering. The result is a thrilling driver's car that is at home on the city streets or on the open road.
Underlining this extra athleticism is a set of 17" alloy wheels, lateral air intakes and a twin exhaust pipe. There's also an array of optional extras including GT roof and bonnet decals and the striking Blaze Orange paint. It all goes to make sure the New Twingo GT looks as good on the outside as it feels when you're behind the wheel.
Renault ZOE: 250-mile NEDC range sends EV to the top of the class
Renault already had one of the top small electric cars on the market in the shape of its ZOE, but for 2017 the ZOE has upped its game in dramatic fashion. Renault's advanced new Z.E.40 battery has arrived in the ZOE, giving it an official NEDC range of 250 miles on a single charge.* Have a look on Renault's website and use the driving range simulator to see how far ZOE could take you.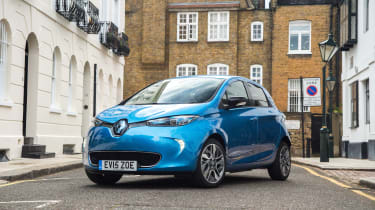 The new battery technology transforms the ZOE's practicality and opens the possibility of electric car ownership up to a whole new group of buyers.
The ZOE has also improved its value proposition with upgrades to its specification inside and out. From the entry-level Expression upwards, ZOE is equipped with Renault's R-Link infotainment system and TomTom® satellite navigation. There's also climate control, cruise control and Z.E. Connect, a mobile phone application that allows you to remotely monitor battery status.
That's the base model in the range and as you climb up to the Dynamique Nav and new Signature Nav variants, buyers get even higher levels of luxury and technology. The rest of the compact electric car market really does have some catching up to do.
Renault Trezor: Renault's design future unmasked
Here's one Renault that won't be seeing the inside of your local showroom. The Renault Trezor concept car was one of the stars of the 2016 Paris Motor Show but its incredible looks are intended to preview Renault's future design direction rather than be translated directly into production reality.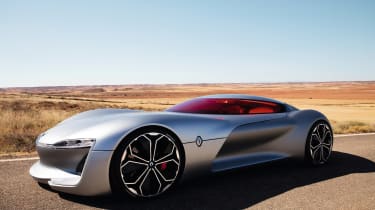 The Trezor is a low, muscular supercar with a unique clamshell roof that opens like the lid of a jewellery box to give access to the sumptuous red-leather interior. It features advanced autonomous driving systems and a 350hp high output all-electric powertrain using technology developed by Renault in the Formula E electric race series.
The Trezor might look a million miles removed from any production car you can buy today but it's a glimpse into Renault's future. The generation of Renault cars beyond this one will come to owe it a lot in terms of their design and technology. It's an exciting prospect.
*Homologated range according to NEDC test cycle, for comparison purposes, 250 miles, real world range will vary according to various factors including driving conditions, driving style, temperature and topography but is likely to be between 124 miles (winter conditions) and 186 miles in temperate conditions.
Electric MG 4 to arrive in September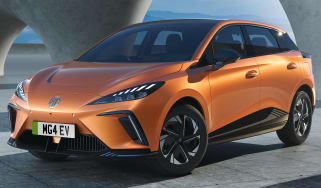 Electric MG 4 to arrive in September
Engine management light: top 5 causes of amber engine warning light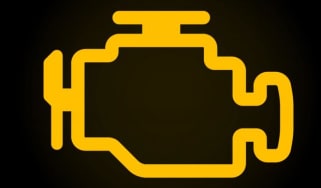 Engine management light: top 5 causes of amber engine warning light
Best new car deals 2022: this week's top car offers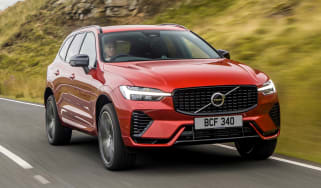 Best new car deals 2022: this week's top car offers