Volvo aims for 50% EV sales by 2025
Volvo has committed to half the cars it sells being electric by 2025, building on its 2017 plans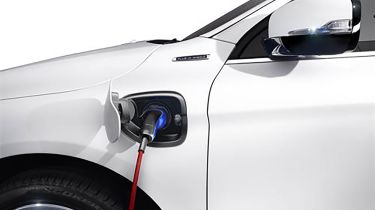 Volvo wants half of the cars it sells to be pure electric models by 2025. Making the announcement at the Beijing Motor Show, the Chinese-owned Swedish manufacturer built on its 2017 promise that all new Volvo models would be electrified and use mild hybrid, plug-in hybrid or battery electric propulsion by 2019.
Said to be an 'industry-first', the release last year created countless headlines, marking the end of Volvo's purely internal-combustion engine range and closing a chapter in its manufacturing history.
The company also confirmed it would launch five fully electric cars between 2019 and 2021, with three sitting in the Volvo range and two branded as Polestar high-performance models.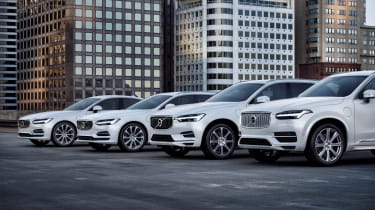 Volvo's Beijing Motor Show stand features only plug-in hybrid models for the first time in the company's history, including the debut of the Volvo XC40 T5 plug-in hybrid. Volvo CEO, Håkan Samuelsson, said "Last year we made a commitment to electrification in preparation for an era beyond the internal combustion engine. Today we reinforce and expand that commitment in the world's leading market for electrified cars. China's electric future is Volvo Cars' electric future."
Volvo is expecting a significant proportion of its electric car sales to come from China, which it says is the 'world's leading market for electrified cars'. With the Chinese government currently targeting 20% sales of alternative fuel vehicles by 2025, a market of seven million electrified vehicles is expected.
As part of its new strategy, Volvo models with only a combustion engine will be "phased out" and replaced by cars that are "enhanced with electrified options" to include all-electric, petrol and diesel plug-in hybrid and mild hybrid.
Speaking last year, Samuelsson said: "People increasingly demand electrified cars and we want to respond to our customers' current and future needs. You can now pick and choose whichever electrified Volvo you wish."
In a bid to reduce its environmental impact and improve fuel-efficiency, Volvo's 2017 strategy laid out plans to deliver a million electrified cars to customers by 2025, "making the cities of the future cleaner". The manufacturer also aims to have achieved climate-neutral manufacturing by the same date.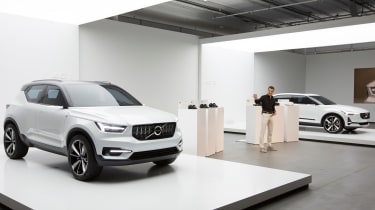 Speaking at the Detroit Motor Show in January 2017, Volvo's head of R&D Henrick Green said: "We're full speed now developing our first full EV to launch in 2019 and it'll be followed up. It won't be a one-off project and will be followed up by further products down the line.
"Right now we have the plug-in hybrid, which we believe is a very strong transitional product," Henrick added. "However, in the longer term, the fully electric battery vehicle will be taking a much larger share of the market mix and people will use and drive fully electric as their main propulsion system or only propulsion system."
In June, 2016 Volvo unveiled two concept cars, the Concept 40.1 SUV and Concept 40.2 Saloon, providing hints as to how future Volvo EVs might look.
The first purpose-designed EV from Volvo is expected to be similar in size and concept to the Tesla Model 3 saloon. It'll sit on Volvo's SPA architecture, which already forms the basis of the present Volvo XC90.
What does it mean for car buyers?
Just 46,522 electric and plug-in hybrid cars were sold in the UK last year, but if you're wondering what's fuelling the huge surge in new electrified models we're seeing on motor show stands, look no further than China.
China now has one of the world's fastest-growing and largest car markets, Volkswagen recently announced it now sells more cars there than anywhere else, and that means the effects of China's push towards electric cars will be felt by UK car buyers.
Volvo is owned by Chinese giant Geely, and by ensuring it's on the front foot to embrace China's new focus on electrified cars, the Swedish brand is poised to become a leading force in the technology. Other brands are following suit and all this technology developed to grab a slice of the rapidly growing EV market in China will ultimately find its way to UK car buyers, boosting the market here, too.