John Cooper Works MINI Countryman SUV blazes a trail in 2017
MINI Countryman SUV gets the JCW treatment with more power and race-inspired technology; on sale in spring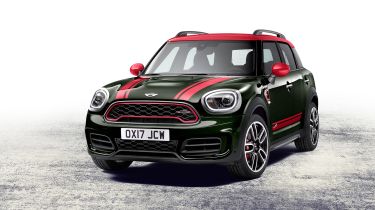 Hot on the heels of the MINI Countryman SUV, the hotly anticipated John Cooper Works edition has now been unveiled. Distinguished by a unique aerodynamics kit and roof spoiler, the new model has the power to back up its exuberant looks.
With engine power boosted to 228bhp, the JCW Countryman can sprint from 0-62mph in 6.5 seconds, and builds on the already capable MINI Countryman Cooper S with upgrades to the suspension and standard equipment. The JCW is to be unveiled during April's Shanghai Motor Show, with order books opening "in the spring" according to MINI.
John Cooper Works was formerly an independent MINI tuning specialist, started by the son of famous sixties Mini rally-car builder and driver John Cooper. Since 2008, it has been owned by BMW as MINI's performance division. JCW models have been highly regarded by enthusiastic drivers since the first was released in 2002.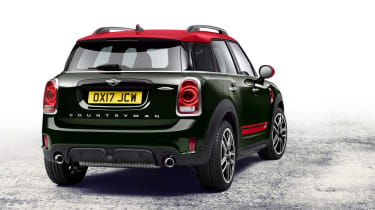 MINI Countryman JCW upgrades
The MINI Countryman Cooper S already comes as standard with an ALL4 four-wheel-drive system, and the JCW takes full advantage of this. Four-wheel drive helps the upgraded car to put its 228bhp on the road, achieving a 6.5-second 0-62mph time in either six-speed manual or eight-speed sports automatic form.
The extra power is coaxed from the JCW's 2.0-litre, turbocharged engine thanks to a list of technical modifications that include special pistons, a bigger intercooler and an extra cooling radiator. A specially designed exhaust system minimises power loss by helping the engine to breathe easier and has been acoustically tuned to give a pleasingly sporty sound.
Upgraded sports suspension keeps the JCW on an even keel, 18-inch John Cooper Works Grip Spoke alloy wheels make sure there's plenty of rubber in contact with the road and shedding excess speed is made easy by a sports braking system from Brembo – an Italian specialist whose systems are seen on some of the most competitive racing cars and bikes in the world.
Meanwhile, a sporty mood is set inside by five individual body-hugging John Cooper Works sports seats, with a matching gear selector and steering wheel.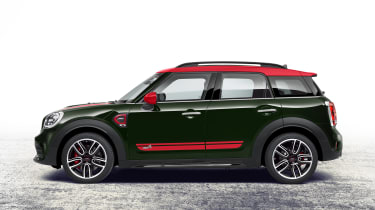 Price and release date
Prices have yet to be announced for the MINI John Cooper Works Countryman, but will be beyond the present range-topping MINI Countryman Cooper S ALL4 model, which starts at £26,350
The MINI Countryman is now available for order through MINI dealers, while the JCW will be publicly unveiled at the Shanghai Motor Show in April, with orders being taken from spring onwards.
Kia EV4 SUV to take on the Volvo XC40 Recharge
Kia EV4 SUV to take on the Volvo XC40 Recharge
Best new car deals 2022: this week's top car offers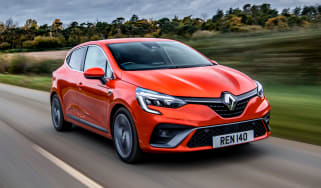 Best new car deals 2022: this week's top car offers
New electric MG4 hatch to start at £25,995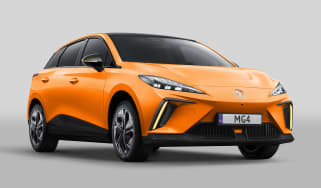 New electric MG4 hatch to start at £25,995