Rusting Dacia Duster takes months to repair
Owner frustrated as nearly new SUV requires major fix and is suffering excessive rust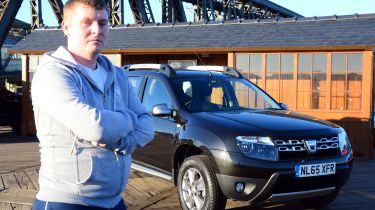 If there's one thing every car owner dreads, it's the sight of rust. Even if the car is new and under warranty, rust issues can take months to resolve and repair.
Such was the case for Daniel Berry, of Tilbury, Essex, who contacted us after his rusty Dacia Duster had spent over six months in the garage for repairs, with no end in sight.
"I bought the car in August 2014. It was first registered by the dealer in November 2013, but it was pretty much brand new when I got it," Daniel said. Despite being nearly new, the car was far from trouble- free, as Daniel soon had to take it in for work on interior lighting and an oil leak. But the biggest issue was rust.
"I had to take the car back again in July 2016, as I spotted rust in several places around the car," Daniel told us. His dealer J Toomey in Basildon later told Daniel the rust was so bad he'd need four new doors under warranty, as well as additional work on the tailgate. Although Daniel was given a courtesy car, he didn't hear back from the garage for months. By then the courtesy car was also showing signs of rust, so Daniel asked us to help in rejecting his Duster.
A Dacia spokeswoman confirmed the company was willing to buy back Daniel's car, but the sum offered wasn't quite enough. "I bought the car for around £13,000," said Daniel. "But I'm only being offered £8,000 from Dacia, and it'd be towards another Dacia. My car's only done 7,500 miles, so I'm not sure it's fair."
Instead, Daniel wanted to see his finance through and buy another car. We asked Dacia whether it was possible for Daniel to get his car back from the garage.
A Dacia spokeswoman said: "As we understand Mr Berry does not wish to proceed with the offers made to him by the dealer with regard to changing his vehicle, we are proceeding with the repairs. We will continue to ensure he is kept mobile in our courtesy vehicle until repairs are complete."
But Dacia couldn't pinpoint when the repair would be done, even though Daniel said the garage now had all the parts. "I was told they have all the parts in the garage, so I'm not sure what the hold-up is. It's a shame, as I just wanted a car that was trouble-free."