Jaguar F-Pace, XF and XE get time-saving tech, new engines
Infotainment app lets you pay for fuel without entering garage shop; new diesel and petrol engines announced
While some manufacturers have taken to issuing slow-drip reveals of their latest cars, Jaguar has taken the opposite approach, announcing a wide-ranging raft of improvements for three-fifths of its range.
The Jaguar F-Pace SUV, as well as the large Jaguar XF and smaller Jaguar XE saloons, are to get new engines, with a 2.0-litre twin-turbo petrol offered in 197 or 247bhp guise, plus a 2.0-litre twin-turbo diesel putting out 237bhp. The two petrol engines are called 20t and 25t respectively, with the new diesel getting a 25d badge.
Jaguar Shell fuel app
As well as engines, there are technology upgrades and boosted interior options across all three cars, including a new app for the infotainment system that lets you pay for petrol at Shell garages from the driving seat. The system works in conjunction with Apple Pay and PayPal, and requires downloading a smartphone app.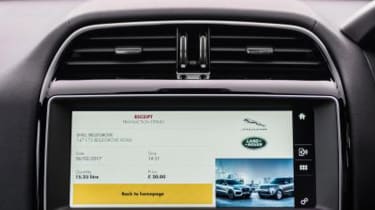 Once that's done, simply fill up with fuel, enter your pump number on the car's infotainment screen, key in a PIN code, confirm the amount and a payment acknowledgement will be displayed, with an email receipt following. Jaguar estimates the whole process will take 30-40 seconds, and can be achieved with just five key presses.
The system is bound to appeal to parents of small children high mileage users – even if it'll do nothing for the loneliness of the long-distance driver. Jaguar hopes to expand the system across other brands in the near future.
And while these updates are technically for the '2018 model year', they're actually available on cars ordered now.
Jaguar F-Pace updates
The Jaguar F-Pace is a highly sought-after and commendable car, and the addition of the 161bhp 2.0-litre diesel engine from the XE is bound to broaden its appeal further.
This engine officially returns 59.2mpg and emits 126g/km of CO2, making it the cleanest and most efficient engine in the F-Pace range; company-car drivers will be liable for a 25% Benefit-in-Kind (BiK) rate if they choose this option.
If you'd rather have some extra shove for motorway overtaking, look no further than the new 237bhp 2.0-litre 25d twin-turbo diesel. Although economy drops to 48.7mpg with this engine, the 0-62mph time shrinks to just 7.2 seconds, too.
And for drivers who'd rather use the green pump than the black one, the 247bhp twin-turbo 25t 2.0-litre petrol engine is a welcome addition to the F-Pace range. It sees 0-62mph dealt with in just 6.8 seconds.
True, the 2.0-litre petrol engine's 38.2mpg economy figure may put some off, but it's a fair bit more economical than the supercharged 3.0-litre engine – the only petrol option hitherto available to F-Pace buyers.
New paint colours have also been added, along with fresh interior options. These comprise improved front seats, new trim combinations and Jaguar's clever 'dual-screen' infotainment system, which allows the front-seat passenger to watch a film, for example, while the driver only sees sat-nav guidance.
Jaguar XF updates
The Jaguar XF large executive saloon is now available with all three of the new engines mentioned above, meaning customers can have the 197 and 247bhp petrols, as well as the 237bhp diesel.
Choose the 197bhp petrol engine and 0-62mph will come up in 7.5 seconds, while fuel economy of 41.5mpg is palatable and CO2 emissions of 154g/km will lead to a BiK rating of 25%. Upgrade to the 247bhp petrol engine and the 0-62mph time shrinks to 6.6 seconds, while economy remains the same – although CO2 emissions of 158g/km are enough to push this engine into the 28% BiK bracket.
The new 237bhp diesel is available with rear or four-wheel drive, and will return 53.3 and 51.4mpg respectively while getting the XF from 0-62mph in 6.5 seconds.
As with the F-Pace, the updated XF boasts other improvements besides the enlarged engine range, including (optional) driver-focused suspension tweaks, a foot-operated boot release and some fresh safety technology, including a blind-spot warning system.
Jaguar XE updates
Not to be outdone, the Jaguar XE gets the three new engines set out above, with the 197bhp 2.0-litre turbo petrol officially managing 45.1mpg, emitting 144g/km of CO2 and getting the lighter Jag from 0-62mph in 7.1 seconds. The 247bhp version of this engine has identical efficiency figures (as the extra power means it has less work to do), but brings the 0-62mph time down to a brisk 6.3 seconds. This engine can also be combined with four-wheel drive.
If the four-wheel-drive 25d 237bhp diesel takes your fancy, the key figures are 54.4mpg, 137g/km of CO2 and 0-62mph in 6.1 seconds. Performance fans, meanwhile, should note the range-topping XE S now produces 375bhp – up from 335bhp.
As with the XF, Jaguar's 'Configurable Dynamics' system is now available, as are the foot-operated boot release and extra safety systems. The traditional dashboard dials, meanwhile, can be swapped out for a 12.3-inch TFT digital screen if you go for the Touch Pro infotainment system.
Order books for all three cars are open now.
Best new car deals 2022: this week's top car offers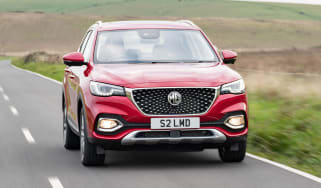 Best new car deals 2022: this week's top car offers
Nissan Ariya vs Volvo XC40 vs Volkswagen ID.4 - which is best?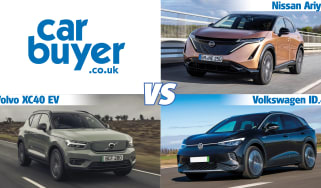 Nissan Ariya vs Volvo XC40 vs Volkswagen ID.4 - which is best?
2023 Hyundai Ioniq 5 N spotted testing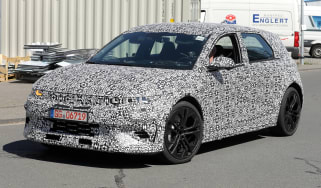 2023 Hyundai Ioniq 5 N spotted testing