Bentley EXP12 Speed 6e concept tests electric waters
New luxury concept shown to gauge public's interest in an all-electric Bentley
Bentley has confirmed its electric-car future with the premiere of a new concept at the Geneva Motor Show today. The Bentley EXP12 Speed 6e concept aims to bring "luxury ownership experiences to the EV sector". The convertible EXP12 Speed 6e follows in the footsteps of the Bentley EXP 10 Speed 6 concept, a hybrid coupe that was revealed at the 2015 Geneva Motor Show.
The Bentley EXP12 Speed 6e concept uses technology such as wireless inductive charging and on-board concierge services to create an "effortless ownership experience". Bentley's vision, set out in its Geneva show car, is to allow an owner to drive between London, Paris and Milan on a single charge.
Despite the electric propulsion, Bentley says its car will perform with the "renowned Bentley characteristics, such as the immediate, effortless surge of torque and grand touring range" for which the brand is known.
When wireless charging isn't available, the EXP12 Speed 6e concept can be connected to a mains supply via a socket behind the rear numberplate.
The Bentley EXP12 Speed 6e concept is inspired by an aircraft fuselage and incorporates an aviation-themed yoke-style steering wheel. Like the latest Bentley Continental GT, the concept features a short front overhang (the bodywork ahead of the front wheels), a long bonnet and a wide rear end. The bonnet scoops are functional, serving to cool the batteries.
A new interpretation of Bentley's iconic front grille in a smoked finish with copper highlights identifies the car as an electric Bentley. When the car is running, a white '6e' logo appears.
One feature unlikely to be adopted for a production car are the door-mounted cameras, which serve as rear-view mirrors. Bentley says these are features also inspired by aircraft design.
The interior is even more opulent – and pure show car. The entire centre tunnel is a solid piece of curved glass and features a high-resolution OLED screen, with which the driver can operate the car's main functions, such as navigation, audio and climate control.
These functions can also be operated via cut-glass sections on the steering wheel. They're mounted alongside additional controls, which can either trigger an immediate performance boost or limit the speed for driving in urban areas.
A second control panel in front of the passenger allows access to social media and entertainment functions. Copper accents are used, including around the gear selector and door veneer panels, to emphasise the electric propulsion systems the EXP12 Speed 6e concept features.
Bentley CEO Wolfgang Durheimer said: "The EXP 12 Speed 6e is a concept to show that Bentley is defining electric motoring in the luxury sector, with the appropriate technology, high-quality materials and refinement levels you'd expect from a true Bentley. This concept enables us to engage with luxury customers and gather feedback on our approach.
"Bentley is committed to offering an electric model in its future portfolio and we are interested to receive feedback on this concept."
Best new car deals 2022: this week's top car offers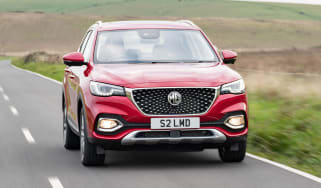 Best new car deals 2022: this week's top car offers
Top 10 best electric family cars 2022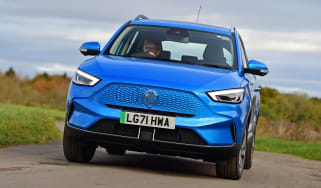 Top 10 best electric family cars 2022
Kia EV4 SUV to take on the Volvo XC40 Recharge
Kia EV4 SUV to take on the Volvo XC40 Recharge