Aston Martin reveals 'AMR Track Performance Pack' for Valkyrie
Customers will be able to personalise Valkyrie hypercar and make it even faster
Aston Martin has revealed that its Valkyrie hypercar will be available with a range of options from its 'Q by Aston Martin' programme, including an AMR Track Performance Pack.
The latter is designed for owners of the 150 road-going Valkyrie's that want to go even faster when they reach a racing circuit. The pack's 'track-only components' can be temporarily swapped with road-legal parts of the car, resulting in lap times around 8% quicker. They include a new nose with greater downforce, a second set of exterior body panels, lightweight titanium brakes, track-biased suspension and matte black magnesium wheels. There's even the option of a matching race suit and pit garage accessories for the 'ultimate track day'.
Prospective customers can now choose from a set of livery designs, a bare carbon fibre roof and engine cover, black exhaust and titanium Aston Martin badges - the latter of which are a first for the marque. Exclusive Valkyrie paint colours will be evocative of its performance, from Slipstream Green to Liquid Petroleum, Ethanol Silver and Maximum Orange.
Choose the Gold Pack and a 24-carat gold leaf livery is laid under the paint lacquer, while the Mokume Carbon Fibre Pack adds the material to the headlight surrounds, sidepod vanes, armrest, interior vents and steering wheel. The interior can be further customised with a range of colours for the Alcantara upholstery, six harness colours and three designs of switchgear - or titanium controls from Q by Aston Martin.
Aston Martin Valkyrie AMR Pro
Even before Aston Martin's forthcoming Valkyrie hypercar hits the road, the British company already revealed a more extreme, track-focused version at this year's Geneva Motor Show back in March 2018.
Like the 'basic' Valkyrie, the AMR Pro version was developed with input from Formula One designer Adrian Newey. Its design is said to be "freed from the constraints and considerations of road use" and as such the car will be track-only; Aston Martin claims "performance capabilities of a current Le Mans LMP1 prototype or Formula One car".
All that power comes courtesy of the same Cosworth-built 6.5-litre V12 engine as the 'regular' Valkyrie, albeit producing a staggering 1,100bhp thanks to changes to its emissions control and F1-style 'Energy Recovery System'. The car weighs just 1,000kg, meaning its power-to-weight ratio is greater than 1:1 (meaning there's more than 1bhp for every 1kg of mass).
Aston Martin claims the Valkyrie AMR Pro has a top speed of 225mph - especially impressive given that outright speed wasn't its goal. Instead, a focus on blisteringly fast lap times has resulted in lateral cornering forces of over 3G and over 1,000kg of downforce.
Adrian Newey, Red Bull Racing's chief technical officer and one of the designers of the Valkyrie AMR Pro, said: "The Aston Martin Valkyrie road car draws extensively from the knowledge I've gained during my career in Formula One, but the AMR Pro version has allowed me to work beyond the constraints of road legality, or indeed practicality!
"We've told a few of its secrets, but by no means all," he said. "I will leave it to the public to ponder the lap-time predictions. Suffice to say they're quite impressive."
The price of this most radical Aston Martin hasn't been announced, but it's largely academic as all 25 Valkyrie AMR Pros that'll be made have already been sold. As part of the package, owners can participate in a tailored and intensive 'driver development programme' and are granted access to the facilities used by Aston Martin Red Bull's F1 drivers. This includes professional on-track tuition and time in a simulator. When ready, owners can partake in dedicated track events held all over the world.
Meanwhile, if you have your name down for the normal Valkyrie, you're unlikely to be disappointed. You'll certainly find the road-going version easier to live with – features like the infotainment, heating and demisting systems have been removed in the AMR Pro to reduce weight – and the same goes for the Valkyrie's multi-adjustable sports seats, which are replaced by solid-shell racing buckets in the AMR Pro. A polycarbonate windscreen with heater elements and lighter carbon bodywork help keep weight down.
The Valkyrie was originally known as the AM-RB 001. Speaking at the 2017 Canadian Motor Show, Aston Martin president and CEO Andy Palmer said it was "destined to become the defining hypercar of this decade and a hugely desirable investment for collectors and enthusiasts".
Aston Martin Valkyrie specification
The Aston Martin Valkyrie has been developed using Formula One technical know-how.
The list of names supplying technology for the Valkyrie is long and distinguished, including famous engine maker Cosworth. The British company has supplied the high-revving, 1,100bhp 6.5-litre petrol V12 for the car, and it'll be normally aspirated rather than turbocharged. Exact performance figures are yet to be released, but with so much power propelling so little weight, the car is likely accelerate explosively.
A seven-speed paddle-shift gearbox also features, provided by British engineering company Ricardo, a name long associated with motorsport. A hybrid battery system will be employed – most likely to boost performance rather than reduce emissions. Croatian company Rimac will supply the batteries, having proven its credentials in this area with the all-electric Concept-One hypercar.
The Valkyrie will use a lightweight carbon-fibre body engineered by Multimatic. This Canadian company also was also involved in creating the ultra-rare Aston Martin Vulcan and Aston Martin One-77, as well as the Ford GT road and race cars.
Aston Martin Valkyrie on-sale date
The name Aston Martin Valkyrie continues a tradition of 'V cars' that began with the DB2 Vantage in 1951, and more recently includes Virage, Vanquish and Volante convertible models. While the Aston Martin Vulcan is named for a god of fire, in Norse mythology the Valkyrie is a female figure who chooses to live as a mortal and dies in battle.
The Vulcan also shares its name with a legendary British bomber aircraft, which seems rather fitting. The Valkyrie name – also belonging to a high-tech ultra-high-speed research aircraft from the same era as the Vulcan – seems no less appropriate.
No more than 150 road-going Valkyrie hypercars will be built, with another 25 dedicated Valkyrie AMR Pro track cars. Both versions are already said to be sold out, and deliveries to lucky buyers will begin in 2019.
Updated Peugeot 5008 starts at £29,585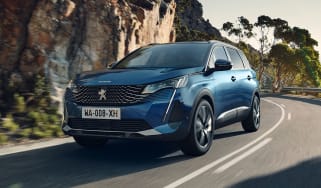 Updated Peugeot 5008 starts at £29,585
Cupra Formentor SUV review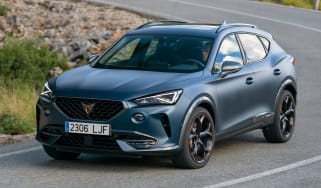 Cupra Formentor SUV review
2020 Volkswagen ID.3 hatchback: base model starts at under £30k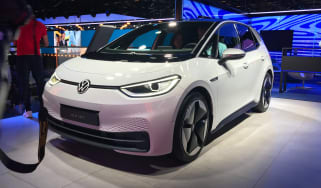 2020 Volkswagen ID.3 hatchback: base model starts at under £30k