Honda banks on alternative-fuel future
Honda vows two-thirds of its cars will use electric, hybrid or fuel-cell power by 2025; twin-motor hybrid due in 2018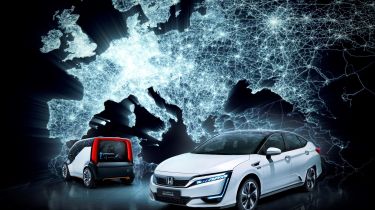 It's been known for some time that carmakers see alternative-fuel vehicles (AFVs) as fundamental to the future of motoring. Honda has now put a figure on just how fundamental it sees batteries, hydrogen fuel cells and petrol-electric hybrids: by 2025 the company says two-thirds of the cars it sells in Europe will use one of these power sources.
Honda has also announced it has a new twin-motor petrol-electric hybrid car in the pipeline. With a scheduled release date of 2018, it's clear that car must be nearing the end of its development stage, and factories will be gearing up for production in the near future.
The presence of two motors promises this new hybrid will offer serious performance, four-wheel drive, or both. Honda is certainly familiar with the advantages hybrid power provides: its recent NSX supercar has combined petrol and electric power to achieve impressively rapid acceleration and four-wheel drive, while the company's Insight was one of the world's first hybrid vehicles.
Honda is using the Geneva Motor Shown to officially unveil its performance-orientated Civic Type R, but it would seem that car's turbocharged 2.0-litre engine will make it something of an outlier in a few years' time. Interestingly, while Honda has been a key player in the development of hybrid propulsion, the company has always been more sceptical about diesel, building its first diesel engine as late as 2004.
Honda's Clarity is also appearing at Geneva, though this car is more in line with the company's future: it's hydrogen fuel cell provides propulsion and recharges the car's batteries on the move via a complex chemical reaction, and though a rare sight, has been on European roads and in showrooms since the end of 2016.