SEAT Mii to lead firm's all-electric charge
All-electric models part of the plan for a range of entirely new SEAT models.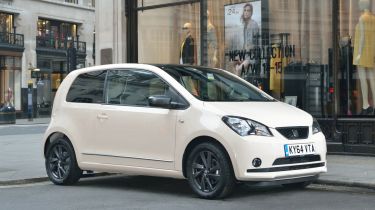 SEAT is poised to launch four all-new models over the coming few years in a plan that will include its first electric cars. Its EV range will continue to grow after that, although not until after 2020.
SEAT's boss Luca De Meo told Carbuyer's sister title Auto Express that he's already using an electric SEAT Mii for his daily commute from central Barcelona to the firm's headquarters down the road in Martorell.
The car, which is based on the Volkswagen e-up!, is currently considered to be a developmental car but it's likely to become the first production all-electric SEAT.
It's expected to be followed by an all-electric version of the new SEAT Leon, and will be based on the technology featured in its sister car, the Volkswagen e-Golf. De Meo said that the new SEAT Ibiza has mechanical underpinnings that can accept electric power, making a battery-powered Ibiza a real possibility.
But SEAT isn't betting the farm on an all-electric future at the moment. The recently confirmed SEAT Formentor SUV is one of the four new models. Another new addition is likely to be a crossover SUV that, according to SEAT insiders, will "blur categories".
After 2020, SEAT will become a major player in the EV market, thanks to the VW Group's MEB platform. MEB can be thought of as a toolkit that will enable the Group to build a wide range of electric cars quickly and comparatively cheaply "We are part of the biggest R&D spender on the planet," Luca De Meo said, "And we will come with EVs on MEB in 2020."
The MEB platform is: "modular and can easily change in length," according to Alejandro Mesonero, SEAT's design director. "And it gives us more freedom to do something totally different on top – something that is pure SEAT."
"Because the platform is quite high due to the batteries, the car will have to be tall and that means making it thin due to the aerodynamics – we need to reduce the frontal area and make it efficient as every extra km of range helps. But it will have big wheels and we can do a very upright rear end and sloped windscreen – it doesn't have to look like a teardrop. But it will be beautiful and very SEAT."
De Meo also hinted at a more extravagant design from SEAT in the near future – including the cars' interiors. He suggested the SEAT Formentor will preview a new design style. That will come to life in the new SEAT Leon, due in 2019, a model intended to kick start a regeneration of the whole SEAT range.