Road tax changes cause registrations slowdown
Rush to register cars before new VED rates results in April downturn; Fiesta still top seller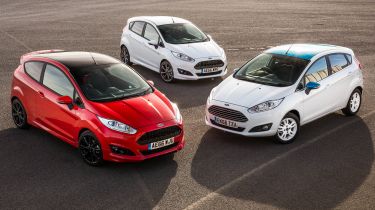 The UK car market suffered its first significant decrease in new car registrations for some time in April, as demand fell due to the rate changes in Vehicle Excise Duty (road tax).
New car registrations in April fell almost 20% compared to the same month last year, following a big increase in March as buyers scrambled to register cars ahead of changes in VED. The VED overhaul means many cars now cost significantly more to tax than they would have done under the old system.
Under the previous structure, owners of cars emitting less than 100g/km of CO2 paid nothing in duty. Because an increasing number of cars produce emissions below this threshold, the Government changed the system so that all cars except those emitting 0g/km are subject to a flat rate of £140 a year (plus a £310 surcharge for the first five tax bills if the car costs more than £40,000).
Buyers looking at new cars that produce between 0 and 130g/km of CO2 could therefore make big annual savings by registering their cars under the old VED structure. The new rates came into effect on 1 April, which naturally caused a big increase in registrations in March and the subsequent drop-off in April illustrated by the figures released by the SMMT today.
The drop in registrations included a 1.3% fall in the alternatively fuelled vehicle class, which includes hybrids. It's the first time there has been a decrease in this area of the market for nearly four years.
The registration of petrol cars dropped by 13.1%, while the registration of diesels, suffering from both the VED changes and shifting public opinion, was down 27.3% year-on-year. Registrations by private, fleet and business buyers were all down compared to April 2016.
Mike Hawes, chief executive of the SMMT said: "With the rush to register new cars and avoid VED tax rises before the end of March, as well as fewer selling days due to the later Easter, April was always going to be much slower. We therefore expect demand to stabilise over the year as the turbulence created by these tax changes decreases."
The Ford Fiesta remained the UK's best-selling car in April and remains significantly ahead of all other models for 2017 so far. Only the Nissan Qashqai came close last month, with 4,430 examples registered compared to 4,957 Fiestas. The third and fourth-place spots were taken by two Mercedes, with the C-Class (3,777) slightly ahead of the smaller A-Class hatchback (3,608).
Nissan Ariya vs Volvo XC40 vs Volkswagen ID.4 - which is best?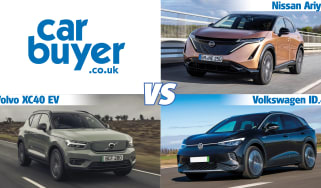 Nissan Ariya vs Volvo XC40 vs Volkswagen ID.4 - which is best?
Best new car deals 2022: this week's top car offers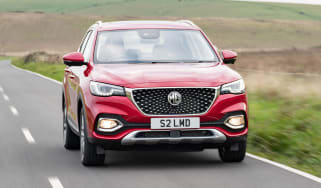 Best new car deals 2022: this week's top car offers
Kia Niro EV review