Watchdog: Kia dealer 'blacklists' customer after criticism
Customer answered a Kia survey honestly, but was told the dealer would not have him back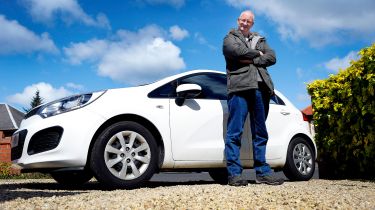 Garages often send out customer surveys to see how they can improve their work, and while a good score is always welcome, sometimes motorists' feedback isn't so well received.
Honesty shouldn't be penalised, but this was the case for John Ashford, from Ayr in Scotland, who was politely asked not to come back by his local dealer after filling out a less than stellar customer survey.
John had taken his 2012 Kia Rio 1 Air to his local Kia dealer – Springside Motors – for servicing and to look at the boot as it would not open properly. "After I got my car back, I was asked to rate the garage out of 10 on their customer service survey," John said. However, because the boot still struggled to open properly, and there had been confusion over the date and price of the service, John felt the service didn't warrant full marks and scored it poorly in some areas.
"To my surprise, the Kia dealer manager phoned me the same day, and without attempting to address the issues I highlighted, said I was not welcome back as they wouldn't be able to meet my expectations," John told us.
Faced with the alternative of driving an extra 35 miles each way to the next nearest dealer, John got in touch with us. We asked Kia if anything could be done to repair the broken relationship.
A Kia spokeswoman told us: "We have fully investigated this incident and it is clear to us there have been some misunderstandings on both sides." Kia admitted the dealership's invoice preparation "was not as clear as Kia Motors UK would have liked it to be and have taken action to change this".
She also pointed out Springside Motors has agreed to make a number of changes to their [consumer survey] processes in order to avoid future misunderstandings".
John has since made alternative arrangements with Kia to have his boot fixed at another dealer. He said: "I find myself in the ludicrous position of having to travel 35 miles each way to the next dealer simply because I gave honest feedback on a form."