New Ford Transit Custom van inherits Fiesta face
Style, comfort and technology updates invigorate latest Ford Transit Custom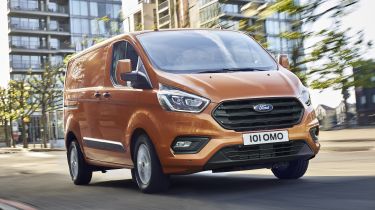 Ford's van range has been given a fresh look with the arrival of the facelifted Transit Custom. Deliveries of the new van are expected to begin in early 2018, but UK prices have yet to be announced.
The latest Transit range is divided into compact Transit Connect, medium Transit Custom and full-size Transit models. In an effort to stay competitive against rivals such as the Renault Trafic, Volkswagen Transporter and Mercedes Vito, the Transit Custom has received its biggest update since its 2013 launch.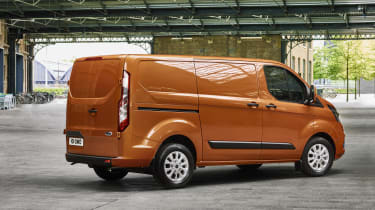 Engines
The latest Transit Custom is powered by the same choice of three EcoBlue diesel engines, with 104, 128 or 168bhp, that was introduced to the range in 2016. A six-speed manual gearbox is standard, while a SelectShift automatic gearbox is available on the 128 and 168bhp models.
An EcoNetic version of the 104bhp engine features stop-start technology, an 'acceleration control' feature and a 62mph speed limiter to increase fuel economy to 49.6mpg. CO2 emissions are reduced, too, to 148g/km. This technology is available on short-wheelbase 300 models.
At the top of the Transit Custom range is the Sport model, which gets the most powerful engine and a choice of eight combinations of body style, seating arrangement and short or long-wheelbase options. The Sport is set apart by bonnet stripes, a body kit and 17-inch alloys, with the addition of part-leather trim inside.
In 2019, plug-in hybrid technology will be offered in the Transit for the first time. The Transit Custom PHEV is in development now and will be placed on trial with fleet customers in London later this year.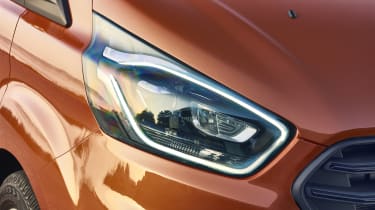 Styling
Restyled to match Ford's latest passenger cars, the latest Transit Custom has a bold new front grille treatment flanked by trapezoidal headlamps, reminiscent of those on the latest Ford Fiesta and Focus, with LED daytime running lights and xenon headlamps available. Otherwise, its practical shape is unaltered, although cosmetic details have been given a sharper, more eye-catching appearance.
Interior and technology
The latest Transit Custom has an all-new interior, too, following the style of the latest Ford Fiesta. As in that car, an optional tablet-style infotainment system can be mounted atop the dashboard, with controls for climate and convenience features below. Ford claims that comfort and ergonomics are much improved, while interior storage is now best-in-class, with 25 litres available. This includes a glovebox that can take hanging A4-size documents. Each end of the dashboard also has a two-litre bottle holder.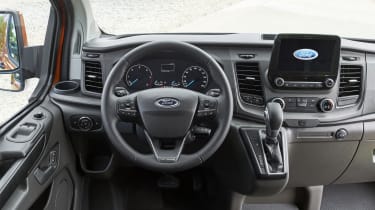 The optional infotainment system incorporates an eight-inch touchscreen that responds to pinch and swipe gestures in the manner of a smartphone, controlling Ford's SYNC 3 Bluetooth phone integration. This is compatible with Android Auto and Apple CarPlay, and enables 'conversational' voice control, understanding such commands as 'I need coffee'.
Where the infotainment system isn't fitted, Transit Custom drivers can use their own smartphone via a MyFord dock, which is provided with a USB and 12v power socket located nearby.
A wide range of driver assistance systems is available, too. Ford claims the Transit Custom is the first commercial vehicle to be offered with an intelligent speed limiter that automatically adjusts road speed when speed-limit signs are recognised. Blind-spot monitoring is available, including cross-traffic alert to assist when reversing out of parking spaces on busy roads.
Price and release date
Customer deliveries of the updated Transit Custom will start in early 2018. Any price increase is expected to be modest – the current range starts at around £21,000 including VAT for a 103bhp 250 model.