Audi introduces new engine naming system
Ascending numbers to describe power output of petrol, diesel, hybrid and electric engines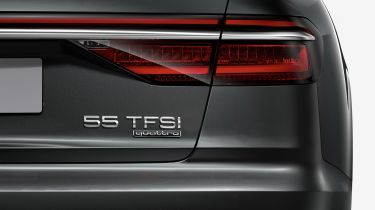 Audi is rolling out a new worldwide classification for its cars, which will see their power outputs rated with a pair of numbers. Everything from the dinky Audi A1 supermini to the Audi A4 saloon and Audi Q7 SUV will be badged according to the new system, which is being introduced towards the end of 2017. The new Audi A8 will be the first car to use it, with other models following suit in 2018.
Although the potent S and RS models and the R8 supercar will be excluded from the new system, all other Audis – be they fitted with a petrol or diesel engine, or the brand's e-tron hybrid setup – will be badged accordingly*:
30 = 109-122bhp35 = 148-161bhp40 = 168-201bhp45 = 227-248bhp50 = 282-308bhp55 = 245-329bhp60 = 429-456bhp70 = 536bhp+
*figures converted from kW
For example, an Audi Q2 with the 114bhp 1.0-litre petrol engine and it will be badged Q2 30 TFSI, while the Q7 with a 3.0-litre 268bhp diesel engine will be badged Q7 50 TDI. The forthcoming A8 with the 3.0-litre 282bhp diesel engine will be badged Audi A8 50 TDI, while the same car with a 3.0-litre 335bhp petrol engine will be badged Audi A8 55 TFSI
If all that sounds confusing, it should make sense once you get to an Audi showroom: regardless of engine setup, the higher the number, the more power the car has. The new system is the brainchild of Dr. Dietmar Voggenreiter, a senior Audi member of staff in charge of sales and marketing. As well as simplifying Audi's naming strategy across three engine setups, the new system may help 'upsell' customers to a more powerful model once they're in a showroom.