'Secret' online tool could save used car buyers thousands
Almost half of car buyers are unaware of free government MoT check service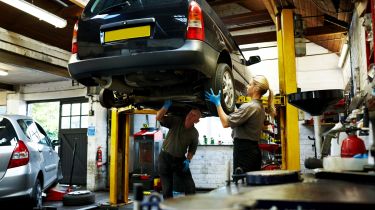 Almost half of all car buyers are unaware of a completely free-of-charge service that could save them hundreds of pounds in repairs when they buy a used car.
Researchers from Carbuyer.co.uk learned that 47% of drivers were unaware of the government's free-to-use MoT history checking service, which indicates how a car has been maintained and can help identify possibly serious faults on a potential used-car purchase.
The free tool allows buyers to follow a car's MoT history to validate mileage, identify potential minor faults, spot a lemon or even haggle the price down.
Researchers also discovered over a quarter of motorists have no idea when the MoT on their car expires.
Carbuyer editor Stuart Milne said: "We carried out a survey of motorists aged 18 to 80 and were astonished to learn that 27% of them haven't got a clue when their current MoT runs out – indeed, some of them could even be driving around without a valid test, with clear safety and legal implications.
"Since you can check the MoT status and history of your car or one you're interested in buying in seconds on your smartphone for free, there should be no excuse to be uninformed."
MoT advisory notices were introduced in 2005 as a means of telling drivers about work needed on their vehicle, which met the test requirements on the day but may need attention in the future. The most common advisories are for wear to tyres and brake friction materials, but they can also apply to more serious concerns such as the onset of body corrosion or suspension problems, which can mean a car isn't likely to pass a future test without a serious amount of work.
The MoT check website was launched in 2012, along with the requirement to display previously recorded mileages on the test certificate. However, there's still no mandatory MoT reminder service, as there is with road tax – although the MoT check website has an optional e-mail alert feature.
"Our advice to anyone buying a used car would be to make the MoT check website their first port of call," added Milne. "It can give you so much information about a car's previous faults and also help you steer clear of a used car that may well be hiding a very expensive fault – yet it seems that nearly half of us are prepared to buy a car without even checking its MoT history."
What is an MoT advisory?
MoT advisories – often known as just 'advisories' – are records of faults or issues with a car, that, while not serious to constitute an MoT failure, are important for the car's owner to know about.
These could be issues that require rectification before the car's next MoT test, although it's not uncommon for an advisory to be listed on several consecutive MoTs if the problem isn't getting any worse.
Typically, it's normal for an older car to leave the MoT station with a few of these on its record, even if it passes. They are something to be aware of, but you needn't panic.
You can rectify the issues in any way you see fit. The most common advisories are for items that degrade with use and are expected to be replaced; tyre tread getting close to the legal limit or brake discs and pads reaching the end of their lives are most common. Of course, you can choose to keep an eye on such issues and fit new parts only when absolutely necessary, but we recommend erring on the side of caution. Just because your car was road-legal at test time doesn't mean it'll be as healthy a month or two down the line.
An MoT tester will be on the lookout for rust, especially on older cars. Although corrosion of your car's bodywork and metal components is often a cosmetic issue, it can become a serious problem if left to its own devices. If any structural areas are highlighted in the advisory section, it pays to act swiftly – rust problems will always be easier (and less expensive) to tackle at an early stage. Chances are that if corrosion has been highlighted as an issue, your car won't pass next time round without remedial work.
Another common advisory item that's best not to ignore is suspension. Ultimately, the suspension is what connects your car's wheels to the road; if an issue is allowed to get out of hand, things can get dangerous very quickly. Wheel bearings should also be considered in this category.
The advisory section of the MoT is often used by testers to let you know if there are any other issues they feel you should be aware of. Naturally, parts that aren't tested as part of the MoT can still require repair or replacement, or may be on their way out.