Nissan announces range boost for e-NV200 van
Increased, 174-mile range promised for Nissan's electric e-NV200 van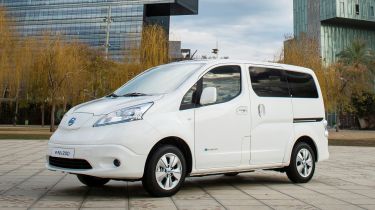 Nissan is to offer a higher capacity battery for its e-NV200 electric van and Combi MPV – promising a 60% increase in its range on a full charge.
The e-NV200 currently uses a lithium-ion battery pack of 24kWh (kiloWatt hour) capacity, enough for a claimed maximum range of 106 miles. The upgraded 40kWh laminated lithium-ion battery is to increase that, however, boosting the e-NV200's official range to 174 miles and hugely increasing its everyday practicality.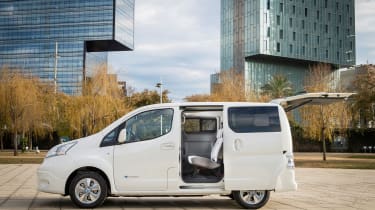 The extra capacity of the new battery comes with no increase in its physical size or weight, so the e-NV200 won't suffer any reduction in load space or maximum payload when fitted with the new battery pack. The van can carry up to 694kg in its load bay, which is over two metres long, while the Combi can seat five or seven, depending on specification.
Recharging the new 40kWh battery from a domestic three-pin mains supply is possible in 21.5 hours, but a 32-amp wallbox fast-charger is claimed to reduce this time to 7.5 hours. However, Nissan says that a 40 minute "quick charge" is enough for 80% if you plug the e-NV200 into a rapid charger, such as those found at motorway service stations.
The e-NV200's 80kw (108bhp) electric motor remains unchanged, so the van will manage 0-62mph in 14 seconds and have a top speed of 76mph.
Prices for the 40kWh Nissan e-NV200 van and Combi MPV have yet to be confirmed, but order books will open before the end of 2017.