New Volvo V40 2019: price, specs and release date
Volvo's VW Golf rival will arrive soon; our exclusive images show how it might look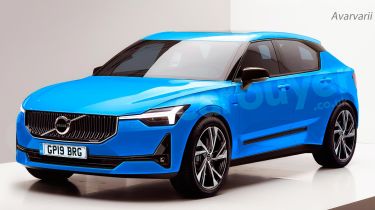 Following on from the runaway success of its recently refreshed SUV range, Volvo is preparing to update its V40 hatchback, a model whose current version has been made to look rather dated by the sharply styled and up-to-date XC90, XC60 and most recently, XC40. To capitalise on the boom of SUVs and crossovers, it's thought that the new V40 will be a jacked-up hatchback with more rugged styling than the current model - it'll be similar to the XC40, albeit with a slightly less boxy look.
Our exclusive images show how the premium family hatchback could look when it arrives in 2019. The new car will be styled and equipped in line with modern Volvos inside and out, with a slightly more aggressive look than the brand's SUVs.
The V40 will be the second Volvo to use the company's new Compact Modular Platform (CMP), following on from the XC40. While the smallest SUV in the range is tuned for comfort, the V40 is likely to offer a sportier driving experience in order to keep pace with rivals like the Volkswagen Golf. The current V40 is the only Volvo that still uses the company's old platform, so it's expected to be the next car to benefit from a new model.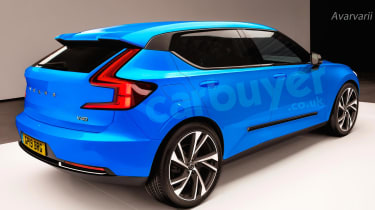 As Volvo's head of research and development Henrik Green told Carbuyer: "CMA is a good platform to build the SUV – the XC40 – but we can also build dynamic cars with it."
The V40 is likely to be powered by its existing D3 and D4 four-cylinder diesel engines, along with Volvo's T3, T4 and T5 four-cylinder petrols. Volvo has developed the V40 to allow for both hybrid and all-electric power, too.
"In purely physical terms, we have to fit the battery in the floor, but CMA gives us pretty good bandwidth," said Green. "We've designed CMA from the beginning to have plug-in capability."
With the battery packs in the floor, an SUV-styled car makes more sense to avoid losing passenger space and luggage capacity. SUVs are also hot property right now, partly due to a higher driving position than conventional hatchbacks - the V40's seats will be mounted higher to satisfy customer demand.
It's expected that the first all-electric car to make use of the CMA underpinnings will not be a Volvo, rather the second Polestar model, the Polestar 2, which has been revealed and is due to arrive later in 2019.
Prices and a release date for the new V40 haven't been revealed yet, but we expect it to start from around £23,000 - slightly more than the current model.
Best new car deals 2022: this week's top car offers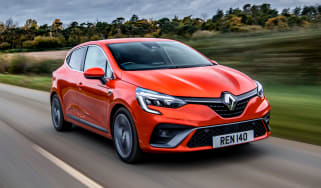 Best new car deals 2022: this week's top car offers
BMW X3 vs Mazda CX-60 vs Volvo XC60 – which should you buy?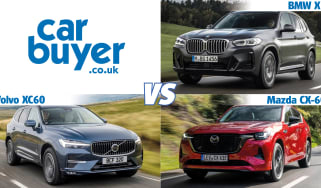 BMW X3 vs Mazda CX-60 vs Volvo XC60 – which should you buy?
New electric MG4 hatch to start at £25,995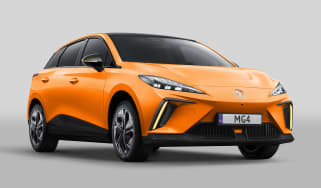 New electric MG4 hatch to start at £25,995