Special-edition Fiat Panda Waze announced
Fiat joins forces with Waze navigation app for high-spec Panda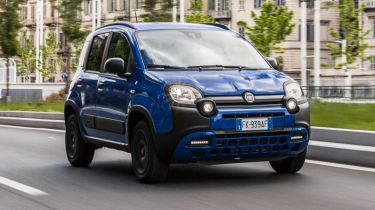 Fiat and the popular Waze smartphone navigation app have joined forces to create a special-edition Fiat Panda Waze, which is expected to reach the UK soon.
Many smartphone users will be familiar with the Waze navigation app – it combines mapping with live data to provide traffic and road-closure warnings, suggesting an alternative route if appropriate. With the special-edition Panda, Waze functionality is incorporated into the Uconnect infotainment system.
Best free and paid navigation apps of 2018
Panda Waze drivers will benefit from audible route instructions and time-of-arrival estimates, with new routes offered to avoid congestion. On top of that, warnings such as low fuel or tyre pressure will trigger the option of navigation to the nearest service station, with fuel-price info also available.
The special-edition Panda Waze shares an SUV flavour with the Panda Cross that it's based on, with LED daytime running lights and prominent grey mouldings to the wheelarches and bumpers – just the job to absorb the dings of urban car parks. Power is provided by a 69bhp 1.2-litre petrol engine.
Full specification and pricing will be announced before the Panda Waze arrives in the UK later this year.