The race is on for New Citroën C3 Aircross (Sponsored)
Thrill-seekers can see competition in anything, which makes grabbing the new Citroën C3 Aircross keys a race for one couple
In partnership with

Getting hold of the keys to the award-winning New Citroën C3 Aircross can turn into a race for many couples. This sturdy small SUV is the ideal car for modern young families because it's so much fun to drive and so good to own.
But while the driving experience is a key part of its appeal, the space and practicality the C3 Aircross offers is arguably more important to buyers in this market. The boot capacity is class leading, plus sliding rear seats allow you to enhance the load space or increase rear legroom as you desire. The seats also fold in a useful 60:40 split so you can carry awkward items. That will be music to the ears of fans of outdoor activities such as kitesurfing or abseiling, who have bulky equipment to load into their car. And because of its shape, the C3 Aircross can fit more kit than most other small SUVs – even that large bag everyone forgets until last!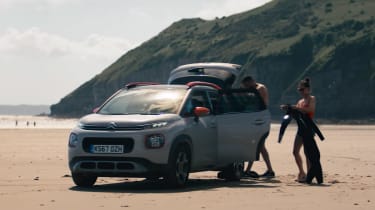 You hit the road loaded up with stuff, and quickly discover that the C3 Aircross comes loaded with technology to make life easier as well. The seven-inch touchscreen features sat-nav, and entering a destination couldn't be more straightforward. Pairing a smartphone with the infotainment system is really simple, too, so in no time you can be ready to take calls safely and legally on the go. And at the end of your journey, tech steps in to take the pressure off again, with a camera and parking sensors making reversing into a space easy.
The thrills of the outdoors and a blood-pumping exercise like abseiling won't just leave you needing some time to relax; your phone may also be exhausted after being used for photos, videos and social updates. But you needn't stress about having the correct lead in the C3 Aircross; just place your compatible smartphone on to its wireless charging pad and the battery will be topped up.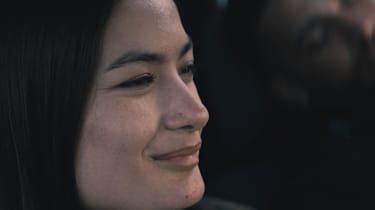 On the road, thanks to its supple suspension and comfy seats, the C3 Aircross delivers just what you expect from a car developed as part of Citroën's Advanced Comfort programme. But unlike many of its rivals, this car also lives up to its chunky looks off the road. The Grip Control system has a number of modes to suit a variety of situations, including Sand, All-Road and Snow. Selected by twisting a dial on the centre console, these allow the Citroën to take on the kind of terrain lesser cars can only dream of tackling. So you can reach a quiet part of the beach to unload your kitesurfing gear or get to the best rock faces for climbing.
The Citroën has one more trick up its sleeve in the shape of an electric panoramic sunroof that lets you fully enjoy the sunset after all the outdoor thrills. And although loading up the kit at the end of day is never much fun, the rear seats split and fold again just as you need them to, making it easy. With all that fresh air in your lungs, you're now too tired to fight over the keys for the journey home, but once again the C3 Aircross will get you there safely and in style and comfort.
Partnership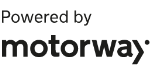 Need to sell your car?
Find your best offer from over 5,000+ dealers. It's that easy.
Take our quick survey for a chance to win a £100 Amazon voucher!
Click here for more from the Citroen C3 Aircross series
Choosing a New Citroen C3 Aircross is child's play
New Citroen C3 Aircross: comfort and convenience