Choosing a New Citroën C3 Aircross is child's play (Sponsored)
With dozens of colours, trims and accessories available, choosing your New Citroën C3 Aircross is great fun

Car showrooms used to be boring places. But not any longer. And if you visit your local Citroën dealer, and check out the award-winning new Citroën C3 Aircross, you'll be like a child on Christmas morning, as sales staff encourage you to have fun choosing the car that suits you.
In fact, why not take your children with you too? They'll be bowled over by the C3 Aircross' exciting shape, and that's before they spot the array of colour combinations Citroën offers. Then they see how the configurator allows them to choose precisely the finish they want inside and out, and bring it to life. The C3 Aircross is available in an incredible choice of eight body colours, three roof colours and four exterior colour packs. In total that's a possible 85 personalisation combinations.
But it's not all about picking colours. You can customise your car further by specifying a shutter effect on the quarter lights, while there's a raft of alloy wheel designs to choose from, as well as roof bars and other lifestyle accessories, depending on how you're likely to use the car.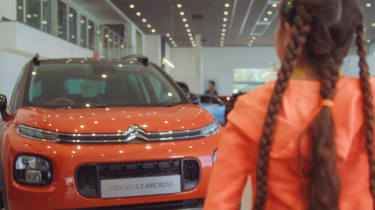 There's still more scope to add your own personal touch when you climb inside the car, with five interior ambiences. All examples of the C3 Aircross have a cool cabin layout, but these finishes adds a unique look and feel that takes things up a notch.
There's substance to go with the style as well. Lift the bootlid and you'll see that the C3 Aircross has the biggest load capacity in its class – perfect for family life – plus the back seats slide so you can increase boot space or rear passenger legroom depending on your needs. The seats also split and fold 60:40 – with a light action that even children can operate – to liberate an even larger, ultra-versatile luggage capacity which adults will love. They'll also like the moveable boot floor, which gives a choice of extra space or a flat floor to match the kind of load they need to transport.
For any member of the family, safety is at the top of the list, and the C3 Aircross is fitted with a long list of the latest technology to protect young and old. Highlights among the 12 sophisticated optional driving aids offered on the car include blind spot monitoring, active safety brake and Citroën's Connect Box Emergency Assistance system.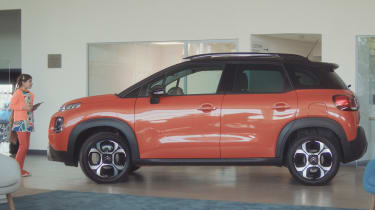 But technology also helps to add some fun to the car's interior, and make long journeys for little ones pass by quickly. A large seven-inch touchscreen takes pride of place in the centre of the dashboard, and its MirrorScreen function mirrors the display on your smartphone, so you can use apps you've downloaded without touching your mobile. Even music streaming services such as Spotify can be mirrored, so your kids' favourite music is easily accessible. And everyone can join in when you open the large electric sunroof and turn up the volume!
On top of all this, the C3 Aircross has been developed as part of Citroën's Advanced Comfort programme, meaning it has a wonderfully smooth ride, thanks to its supple suspension, and some of the comfiest, most supportive seats around. So you can add comfort to its long list of talents, and whether you're young or old, it's clearly a winning package.
Take our quick survey for a chance to win a £100 Amazon voucher!
Click here for more from the Citroen C3 Aircross series
The race is on for New Citroen C3 Aircross
New Citroen C3 Aircross: comfort and convenience