New Citroën C3 Aircross: comfort and convenience (Sponsored)
The new Citroën C3 Aircross proves that space and usability needn't come at the expense of style
In partnership with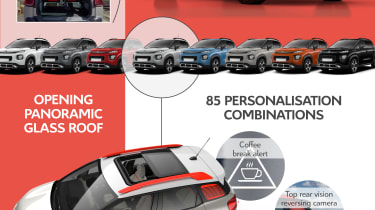 Citroën is a car maker that's never been afraid to tear up the rule book, be it with striking design, a cosseting ride or a radical take on technology. And the firm has distilled all that it's learned through its 99-year history into this, the New Citroën C3 Aircross.
The award-winning New Citroën C3 Aircross continues the French brand's revival, and the result is a superbly comfortable, spacious, relaxing - and eye-catching - small SUV.
Catch a glimpse of the C3 Aircross, and there's no mistaking it for anything other than a Citroën, with its robust styling and bold 'double chevron' badge. And yet, this is just a blank canvas for the prospective owner. There are no fewer than 85 personalisation combinations available, including four roof colours, plus four exterior 'Colour Packs'.
There's plenty of scope for personalising your Citroën C3 Aircross inside too, with five interior design choices, each offering different ambiances. Whether you choose Metropolitan Grey, Urban Red, Hype Mistral, Hype Colorado or the standard look, each carries its own distinctive colour schemes and fabrics.
While you might describe the C3 Aircross as a small SUV, there's nothing compact about the interior. The rear seats can slide back and forth to increase boot space or rear legroom. That means there's space for three adults in the back, and the boot can be increased to 520-litres - more than you'll find in some cars from the class above. And if that's not enough, a folding front passenger seat is an option - allowing you to carry longer loads than you'd think possible.
Comfort and useability is at the heart of the C3 Aircross, a model which is part of the Citroën Advance Comfort philosophy. That means the seats, suspension and soundproofing have all been developed to ensure the C3 Aircross offers unparalleled comfort and serenity in this class.
Take our quick survey for a chance to win a £100 Amazon voucher!
Click here for more from the Citroen C3 Aircross series
The race is on for New Citroen C3 Aircross
Choosing a New Citroën C3 Aircross is child's play