Volvo adds T5 petrol power to S90, V90 and XC90 SUV
Volvo has shown its commitment to petrol, adding its T5 engine to the S90, V90 and XC90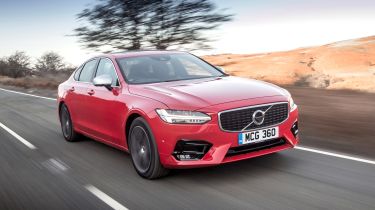 The Volvo S90 saloon, Volvo V90 estate and Volvo XC90 SUV are all now available with a turbocharged 2.0-litre T5 petrol engine boasting 247bhp.
The news comes only a few months after Volvo announced it would not be offering a diesel engine in the Volvo S60 saloon, its latest model. The Swedish manufacturer stated that its decision to offer the T5 in its large models "is further evidence of Volvo's continued focus on petrol technology".
Read our full review of the Volvo XC90 SUV
In the Volvo S90, the T5 will be available on trim levels above the entry-level Momentum and Momentum Pro grades, and joins the T4 petrol, D4 and D5 diesels and T8 Twin Engine plug-in hybrid. The T5 will return up to a claimed 42.8mpg and emits 154g/km of CO2, for a 31% Benefit-in-Kind (BiK) band if you're a company-car driver. The engine offers quick acceleration from 0-62mph (6.8 seconds), a top speed of 140mph and costs from £41,120 in the sporty R-Design trim.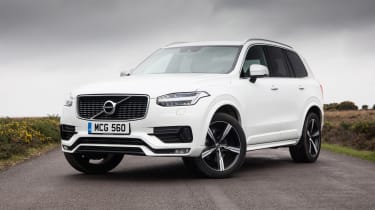 In the Volvo V90 estate, running costs increase slightly due to 41.5mpg fuel economy and 157g/km CO2 emissions (for 32% BiK). The V90 T5 takes seven seconds to get from 0-62mph and the engine will also be offered in the Volvo V90 Cross Country – the tough version of the luxury estate with four-wheel drive and added ground clearance. There's an impact on the figures, though, with the 0-62mph increasing to 7.4 seconds and fuel consumption dipping to 35.8mpg (with 172g/km CO2 emissions and 35% BiK). The V90 T5 R-Design and V90 T5 Cross Country will cost from £43,120 and £44,685 respectively.
In the Volvo XC90 SUV, the T5 engine is available in every trim level and with four-wheel drive as standard. The entry-level T5 Momentum version starts from £50,435 while the range-topping XC90 T5 Inscription Pro will set you back from £59,235. Fuel consumption is 35.8mpg and BiK climbs to the top 37% band, while acceleration from 0-62mph takes 7.9 seconds – a tenth longer than the D5 diesel. A more powerful 306bhp T6 petrol is also offered in the XC90, with fuel economy of up to 35mpg.