Nissan e-POWER hybrids to be sold in UK from 2022
The Nissan IMQ SUV concept previews a new powertrain that will be available in a range of different models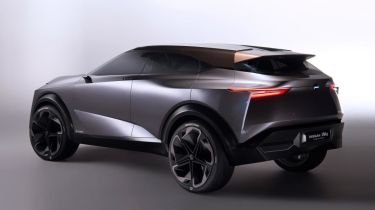 Nissan has unveiled its new hybrid e-POWER system at the Geneva Motor Show. Initially shown on the Nissan IMQ concept, the powertrain will be offered on a range of next-generation models from 2022 onwards.
The e-POWER setup consists of a 1.5-litre petrol engine, a battery pack and two electric motors. The petrol engine will primarily be used as a generator to charge the batteries, which supply power to the electric motor. Nissan says having this hybrid setup is better for fuel economy and emissions, as it should run on the electric motor more often. As yet, the company hasn't revealed details on range, battery size or performance.
This powertrain already underpins two of Nissan's big-sellers in Japan; the Note and Serena MPV. In fact, 70% of current Nissan Note sales in Japan feature the e-POWER architecture.
In the UK, it's set to be available on the company's SUV range. The IMQ concept, also revealed at Geneva, previews the next-generation Nissan Qashqai and features the e-POWER setup, while the Nissan Juke and Nissan X-Trail will also be available as hybrids.
Some of these cars, such as the Juke, will also be offered without a petrol engine at all. After the success of the Nissan Leaf, the company is set to roll out purely electric versions of more models. Since its release at the beginning of the decade, over 400,000 Leafs have been sold.
Nissan is poised to reveal a battery pack made from recycled Leaf batteries later this year. It'll be portable and weatherproof, allowing drivers to easily recharge their cars anywhere. The battery pack can hold 700Wh of charge.
Read our reviews of Nissan models here, or see where the Leaf features on our list of best electric cars.