Smaller Ford Mustang Mach-E under development with Volkswagen
The Ford Mustang Mach-E will be joined by a smaller SUV model, and our exclusive image previews what it could look like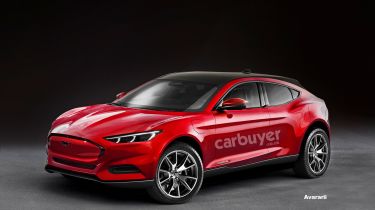 Baby crossover EV to join the Mustang Mach-E range
Ford to use Volkswagen's MEB platform for future EVs
Two drivetrains and different battery sizes will be offered
After the stunning reveal of the Ford Mustang Mach-E earlier this year, Ford is thought to be utilising its partnership with Volkswagen to further expand its electric Mustang Mach-E model range. High-level sources within Ford have hinted the American manufacturer is already mulling over the idea of expanding the Mach-E range with a smaller model to broaden its appeal to a wider range of buyers.
Ford of Europe's Chief Designer Murat Gueler, told our sister publication Auto Express: "Once we introduced Mustang as inspiration, it came together quickly. We're really excited by what this brings to the electric car, and yes we have already talked about expansion, to some sort of family."
Best electric cars you can buy today
Ford is planning to roll out an array of new EVs in the early 2020s, using the VW Group's MEB vehicle platform under licence. This platform underpins the forthcoming Volkswagen ID.3 and SEAT el-Born, and it's thought that Ford engineers have started discussions with their Volkswagen counterparts on how the platform could be adapted to fit Ford's requirements.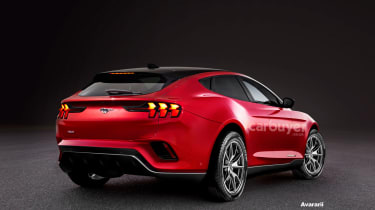 One key area under discussion were the ID.3's dimensions, which features a long gap between the steering wheel and the base of the windscreen in order to accommodate the car's augmented-reality head-up display system. This gives the ID.3 a shortened bonnet design making it difficult for Ford to design a compact model with the profile, roofline and stance of a Mustang.
Speaking about the potential benefits of the Ford/VW partnership, Ford's global director of electrification Ted Cannis commented: "It's key that we have enough flexibility, and it's important to have enough differentiation and the kind of performance you expect from a Ford. A lot of that was done in the early part of the negotiations with VW. The parameters that we've seen, we can make a great Ford."
These exclusive images preview what the baby Ford Mustang EV could look like underpinned by the MEB platform. It would boast a far shorter wheelbase (the distance between the front and rear wheels), with a sporty couple style roofline with an unmistakably Mustang style front and rear end design.
Volkwagen's MEB platform is capable of supporting rear- and four-wheel drive powertrains, and it's possible a smaller Ford Mustang Mach-E could be offered with both setups and a range of different battery sizes. This could see the small Mustang EV boast up to 302bhp and 300 miles of range.
One critical factor deciding whether a smaller Mustang Mach-E will make it into production is the resistance from diehard fans over the use of the 'Mustang' name. This could lead to a rebrand of the nameplate, with Ford possibly attempting to link any new models with an existing EV model.
Want to know more about the Ford Mustang Mach-E? Read our reveal for everything you need to know.