2021 Geneva Motor Show cancelled
Geneva cancelled as many exhibitors remain wary of travelling to the show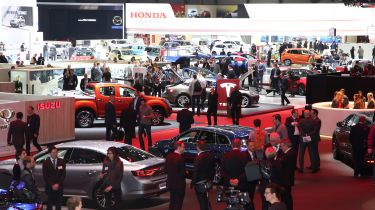 The 2021 Geneva Motor Show has been cancelled. Scheduled to take place from 4-14 March next year, the organisers have decided to cancel it because of poor demand from manufacturers and other participants.
Geneva Motor Shows have previously attracted over 600,000 visitors a year, but the event was cancelled in 2020 due to the coronavirus outbreak. It was due to be held in early March this year, just as the virus was gripping Europe, but Switzerland banned gatherings of more than 1,000 people a week before the show was due to start.
It's reported that the show has struggled to survive financially, and the organisers were said to be promised over £9m in state aid if the show was to go ahead in 2021. The event looks set to be sold to the Palexpo conference centre, where the show is normally held.
The early cancellation of next year's Geneva Motor Show suggests large motor shows may become a thing of the past. The cancellation of this year's event meant car brands launched their new models online, instead of transporting cars, representatives and journalists to a physical location.
All similarly sized motor shows have been cancelled this year due to the coronavirus, and we may see more cancellations in future if car manufacturers decide these shows are still unsafe or simply unnecessary.