Sleek next-generation electric Volvo coupe-SUV previewed
Volvo plans to introduce a new range of sleek coupe-SUVs to expand its EV line-up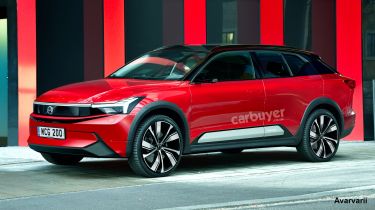 One new electric Volvo to be launched every year up to 2025
Next XC90 set for 2021 reveal
Volvo to expand its model range
Volvo will give its next-generation SUVs a sleeker design to aid efficiency, according to the company's design director. It's thought the Swedish brand is planning to expand its line-up with a new pure-electric model every year up to 2025, with SUV and crossover models being the main focus.
Kicking off the range will be a new Volvo V40, which will gain jacked-up styling rather than a traditional hatchback style - just like Citroen has done with the new C4. There'll be several bigger SUVs, including one a similar size to our exclusive image previews. This next-generation of Volvo models could feature an SUV-style design, body cladding and a raised ride height, but with a more compact and sleeker design to help improve aerodynamics - and therefore efficiency and range.
Best electric cars on sale now
Following the launch of the Volvo XC40 Recharge earlier this year, an array of fully electric models are in development. Volvo is planning to launch one every year, starting with the forthcoming third-generation XC90 in 2021. The company will still offer its saloons and estates, but it's thought it will target even more SUV markets.
Speaking to our sister site Auto Express, Robin Page, Senior Vice President of Design, confirmed that the Volvo line-up will change.
"Moving into electrification gives us an opportunity to rethink what cars are. We're more open to not just repeating what we've done before but also looking at opportunities both in bigger and smaller cars," Page explained. "As a design team we're always exploring beyond the obvious, and of course with electric vehicles it brings opportunities and challenges in terms of aerodynamics and balancing with people's needs in terms of space."
He added that electric vehicles and SUVs "contradict each other" because it's harder to make such large vehicles streamlined and efficient.
"The tricky part of the future is the SUV world, because the traditional SUV is about a high [hip] point and roof. As we go into EVs, of course, the value of range and aerodynamics becomes a real point."
"How does the world look when you have people wanting that high position and all the usability of an SUV, balanced with the fact they want range? Clean aerodynamics."
To achieve this, we'd expect Volvo to give its cars a smoother front end, aero-efficient alloy wheel designs and cameras instead of wing mirrors - but this may be optional, like it is on the Audi e-tron SUV range.
Check out our guide to the best electric SUVs to buy this year, or read our current Volvo reviews.