Electric Volvo XC40 Recharge P8 on sale priced from £53,155
The 2020 Volvo XC40 Recharge P8 is the firm's first electric car, launched under its new Recharge sub-brand
Range of 249 miles
More trim levels to follow
Five electric Volvos to be launched by 2025
The Volvo XC40 Recharge is on sale now for £53,155. It's Volvo's first pure-electric car and will arrive in showrooms in late 2020. For now, it'll have few direct rivals; the Hyundai Kona Electric and Kia e-Niro cost less, while slightly bigger electric SUVs like the Jaguar I-Pace, Tesla Model X and Audi e-tron are more expensive. High-spec Tesla Model 3 saloons are a similar price.
The electric XC40 is initially only available in R-Design trim but we expect more versions to follow shortly. Its £53,155 price tag means the Recharge just misses out on the £3,000 Plug-in Car Grant (PiCG), which now excludes cars that cost more than £50,000. First deliveries are set to start in early 2021.
The electric XC40 becomes the second arrival from Volvo's new sub-brand, called Recharge, after the recently launched XC40 T5 plug-in hybrid. All fully electric and plug-in hybrid (PHEV) models will sit under this name, separating them from conventional petrol and diesel models. Volvo is planning an additional four new electric models alongside the XC40 Recharge over the next five years and wants EVs to account for 50% of sales by the year 2025.
Sitting on Volvo's Common Modular Architecture (CMA), which underpins the XC40 model range, the electric version has two electric motors, one on each axle making it four-wheel drive. It is powered by a 78kWh battery situated beneath the car's floor. The claimed power output is rated at 402bhp, giving a 0-62mph time of 4.9 seconds.
Volvo claims the XC40 Recharge is capable of 249 miles on a single charge. Charging from an 11kW wallbox takes just under eight hours. A 150kW rapid charger, usually found at motorway service stations, gives a charge to 80% capacity in around 40 minutes.
Externally, the XC40 Recharge features subtle differences to the design of the petrol and diesel models with a blanked off front grille and 'Recharge' logos in the rearmost c-pillar. A new Sage Green metallic paint option is also available, bringing the colour palette up to eight choices alongside unique 19-inch and 20-inch alloy wheels options.
The lack of a conventional engine means Volvo has redesigned the XC40 Recharge to make it as safe as the conventional models. At the front, the crash structure has been completely redesigned and strengthened. The battery is held in a protective case in the middle of the car, which itself acts as a crumple zone for the battery. The underpinnings at the rear have been revised, allowing Volvo to accommodate the electric motor without any compromise of the boot space. With no engine to package, Volvo has managed to create an additional 30-litre storage area under the bonnet.
The location of the battery pack helps to lower the car's centre of gravity while improving handling. Volvo's new Advanced Driver Assistance Systems (ADAS) safety suite is also featured, operating via a series of sensors located in the front grille.
Much of the interior cabin design of the XC40 Recharge is carried over from the standard XC40. A new Google Android operating system replaces the current infotainment setup - the first time this system has been used in a Volvo model. It'll install updates wirelessly, much like Tesla's systems, so you'll always have the latest software and up-to-date maps. The door linings and carpets are made from 97% recycled plastic bottles.
Volvo's latest version of its Pilot Assist technology will make its debut in the electric XC40. When turned on, the system takes over steering, acceleration and braking, and can be used on both motorways and in slow-moving traffic. With the new Google Android operating system in place, the system uses Google Maps for speed limit and road layout information. There's also a new Emergency Stop Assist function that warns the driver if they're not holding the steering wheel. If several warnings go ignored, the car will slow down to a 'safe stop'.
Volvo will offer financial incentives to encourage purchases from the Recharge model lineup. The Swedish brand is also tripling production capacity at its factory in Ghent, Belgium for an anticipated increase in demand for its electric and plug-in hybrid models.
Do you want to know how the Volvo XC40 Recharge compares to the Kia e-Niro? Read our full specs comparison here...
New electric small Volvo SUV planned with XC20 badge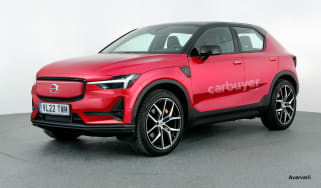 New electric small Volvo SUV planned with XC20 badge
Second Volvo XC40 plug-in hybrid launched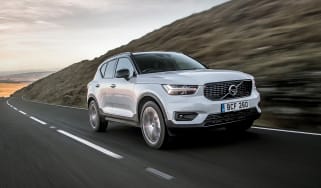 Second Volvo XC40 plug-in hybrid launched
Ford EcoBoost engines: what are they and should you buy one?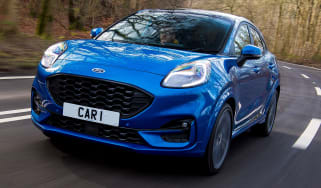 Ford EcoBoost engines: what are they and should you buy one?
Refreshed 2020 Land Rover Discovery breaks cover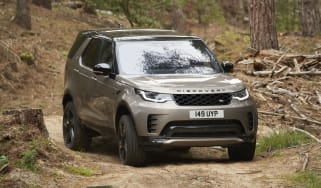 Refreshed 2020 Land Rover Discovery breaks cover
What is ESP on a car?