Fiat 500XL revealed online
The new Fiat 500XL has been revealed online, price and specs to be confirmed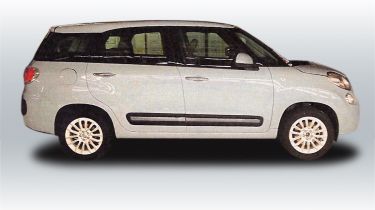 The first image of the upcoming seven-seat Fiat 500XL has been posted on the Internet, ahead of the car's launch later this year.
Based on the recently released Fiat 500L, the 500XL is a more practical version of the already versatile mini-MPV. It's 200mm longer than the 500L, with most of the additional length added to the back, behind the rear wheels. This allows for an extra pair of seats in the boot, which can be folded to reveal a much bigger luggage area than in the 500L.
Aside from the longer body and larger interior, the 500XL is nearly identical to the 500L on which it is based. It will get the same dashboard and dials, familiar Fiat buttons and switches, and the same front grille and headlights.
The engine line-up is expected to carry over from the 500L, too, meaning buyers will get a choice of two petrol and two diesel engines. Options include Fiat's award-winning 875cc TwinAir two-cylinder petrol as well as the economical 1.3-litre Multijet diesel.
Although prices are yet to be announced, the 500XL is expected to cost around £1,500 more than the smaller 500L. This means the seven-seat 500XL should start at about £16,500 for the 1.4-litre petrol in Pop specification, with the flagship 1.6-litre Multijet diesel models costing around £20,500.
The Fiat 500XL will rival the Ford Grand C-MAX and should go on sale by the end of the year. A 500X off-roader is also planned, and will join the line-up in 2014.
To view the full Fiat range, visit the CarBuyer Fiat reviews page.