Renault 4 is to be reborn as an electric SUV
The Renault 4Ever Trophy concept gives us a hint of how the Renault 4 may look in 2025
Renault 4 reboot will be all-electric
Production model expected in 2025
Designed to be capable in cities and off-road
The Renault 4Ever Trophy concept has been revealed at the 2022 Paris Motor Show, providing hints as to how a new Renault 4 model could look when it arrives in a few years. The new prototype follows on from a Renault 5 concept shown at the Goodwood Festival of Speed earlier in the year, as Renault lays the foundations for a new range of electric models.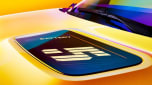 New Renault 5 retro EV teased before 2024 Geneva Motor Show debut
Renault will likely ensure some of the distinctive styling cues from the 4Ever Trophy concept will make it to the production version of the Renault 4. The Renault 4Ever is unmistakably rugged thanks to its unpainted wheel arches and raised ground clearance – features likely to be toned down for production. However, it also has a soft-edged design, so this boxy off-roader still has a visual link to the smooth styling of Reanult's city cars, and these painted elements are more likely to hit showrooms. 
The front grille, trapezoidal rear windows, and squared-off front are a modern interpretation of the original model. The rear lights and hatch window are also designed to mimic the old Renault 4's design.
Renault is designing the future Renault 4 to be a common sight both in and out of the city, meaning its development will likely concentrate on ensuring it has a go-anywhere attitude, without adding too much weight or size. The new Renault 4 will be built using the same CMF-BEV platform as the Renault 5, and the concept features a 42kWh battery and 138bhp electric motor powering the front axle.
While no pricing will be announced until much closer to the launch of a production version, it's likely it will be affordable – following in the footsteps of the original Renault 4. Considering it would face a host of rivals including the Peugeot e-2008 and Kia Niro EV, this would likely mean a starting price from around £30,000.