Fiat Panda Cross
The Fiat Panda Cross doesn't just look tough - it is tough. Few will believe how capable it is off road, yet it's as practical as a normal Panda.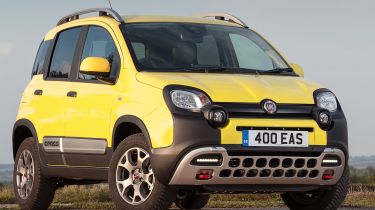 The Fiat Panda Cross takes the impressive, rugged, off-road credentials of the Fiat Panda 4x4 and turns it all up a gear. Despite its small size and cheeky looks, the Panda Cross is a model like no other.
That's because the Fiat Panda Cross has some serious off-road ability. Behind that tough-looking protective cladding sits four-wheel drive and a range of electronic systems – all aimed at increasing grip off-road. It's the same sort of gadgetry you'll find on a Range Rover, such as hill-descent control, which takes care of braking when you're coming down a steep slope and leaves you free to concentrate on steering.
Two engines are available: a 1.3-litre diesel and a 900cc (0.9-litre) petrol. The latter is badged TwinAir and is particularly nippy around town, but with either engine the Panda Cross is a formidable off-road car.
Good points
The Panda Cross looks great and its off-road ability more than justifies those rugged styling tweaks.Its petrol and diesel engines perform well in pretty much any circumstance and the fact that under all that go-anywhere charisma sits a Panda means it's practical, spacious and has a neatly designed interior.
Bad points
It's not quite as pretty as the standard Panda 4x4, but the Cross will certainly get you noticed. And although there's plenty of equipment fitted as standard, it's quite expensive to buy – particularly compared to the slightly larger Dacia Duster off-roader.Plus, a four-star Euro NCAP safety rating is behind the best small cars, but if you really want a tiny 4x4, then the Panda 4x4 – or the Cross – are your only options.
What you get
Alloy wheels
Passenger & Driver airbag
Front side airbags
Front fog lights
Auto climate control
Leather steering wheel
Recommended optional extras
Rear parking sensors
Emergency braking system
Tinted glass
Our choice
Although its fuel economy is nowhere near the claimed 57mpg, the buzzy little TwinAir petrol engine is hard to ignore. It's nippy around town, yet offers enough oomph for a motorway cruise.