Skoda Enyaq iV SUV review
"The Skoda Enyaq iV is a great all-round EV, offering a decent range, plenty of space and good value"
Pros
Versatile interior
Good value
Spacious
Cons
Firm ride
Fastest charging adds cost
Cold weather significantly affects range
The Skoda Enyaq iV is the first purpose-built electric model from the Czech brand and despite sharing its 'skateboard' platform with the Volkswagen ID.4, it's far from a rebadged clone of the VW. Instead, the Enyaq iV has its own unique personality and attributes, making it a family-friendly EV that deserves to be on your shortlist.
The styling is reminiscent of a seven-seat Skoda Kodiaq but one that's spent countless hours in a wind tunnel; it sits lower, has more swept-back headlights and a closed grille to deflect air and reduce drag. There's a clear evolution of the brand's usual approach inside too, with Skoda passing up the opportunity to use the switch to electric power to reinvent itself. The Enyaq iV has all the practical features that families love, helping set itself apart from smaller (but not necessarily cheaper) rivals like the Peugeot e-2008 and Hyundai Kona Electric.
A flat floor means passengers have lots of space to stretch out, while also allowing storage cubbies to appear in inventive new places. The electric Skoda also has a very impressive 585-litre boot, but it no longer qualifies for government plug-in car grant eligibility, because it costs more than the £32,000 threshold, even if you go for the smaller battery.
More reviews
In-depth reviews
That battery gives the Enyaq iV 60 a range of up to 256 miles, while the larger one in the Enyaq iV 80 extends this to as much as 333 miles. We think the smaller battery will be the best option for most drivers because a realistic range of around 200 miles should be enough for all but the longest trips, and makes the Enyaq iV great value for money.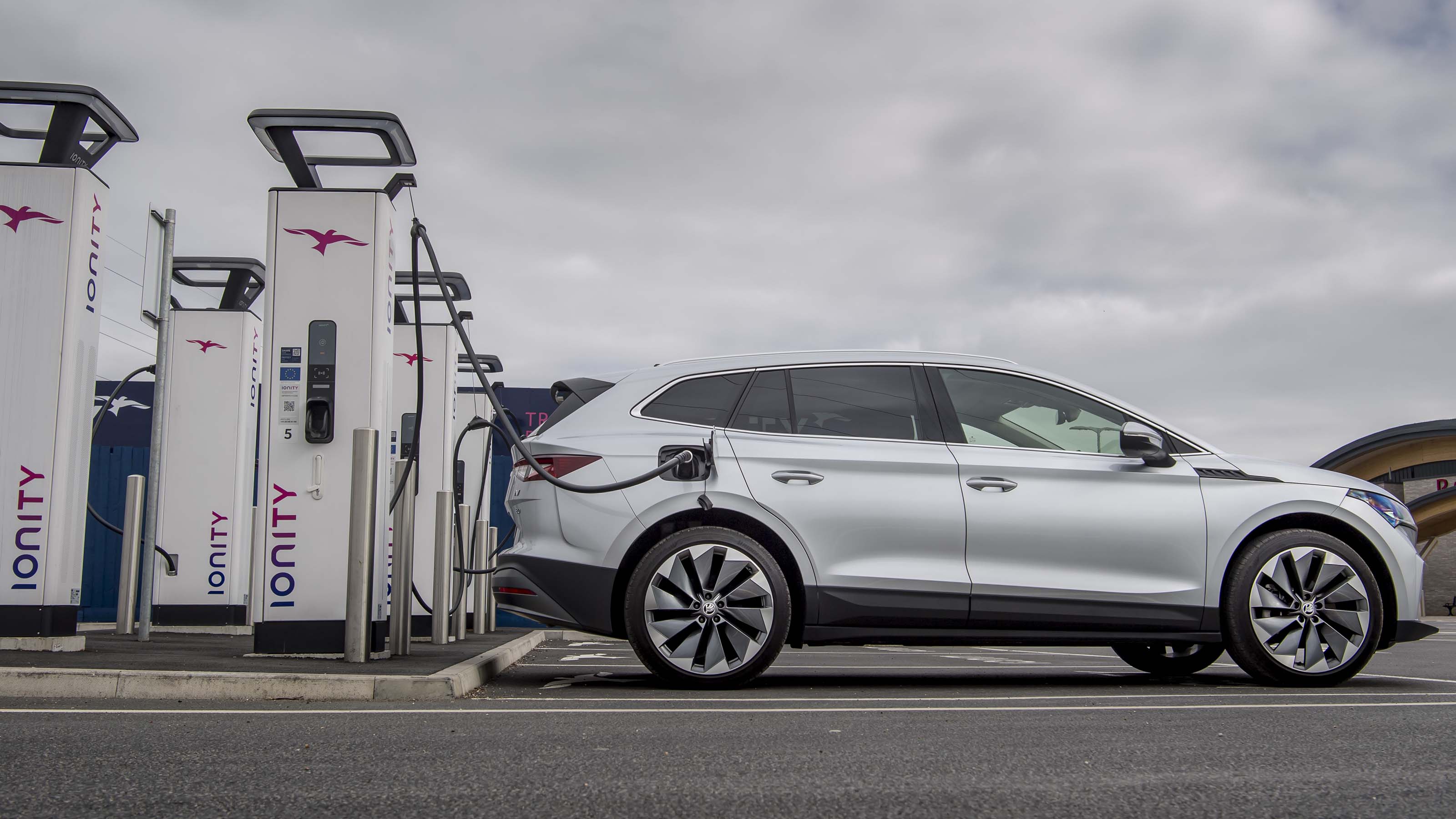 Top 10 best electric SUVs 2022
A four-wheel-drive iV 80x was introduced in 2021. It has an electric motor for the front wheels as well as one for the rear wheels, giving it improved performance over the regular versions. The Enyaq is still no sports car with this powertrain, however, and the 80x (only available in top-spec SportLine guise) is rather more expensive than the 60, which means it starts to look like less good value. It's officially capable of up to 303 miles of range between charges.
If you do need to drive further afield, iV 60 and 80 models can be charged at around 120kW. The range-topping iV 80x gets 125kW rapid-charging as standard.
Depending on which battery is chosen, the car's equipment also changes slightly but is plentiful even as standard. Buyers have the option to change the interior theme but as most of these cost roughly the same, it comes down to personal preference. Needless to say, there's an option for just about everyone, whether you prefer grey and black upholstery or brown artificial leather, tanned sustainably with olives.
A dedicated electric car might seem like a departure for Skoda but the brand's future is in good health if the Enyaq iV is anything to go by. It offers the flexibility, safety and value we've come to expect from Skodas, along with a decent range and impressive new technology.
Early next year, the Enyaq lineup will expand further still with the introduction of a new Enyaq Coupe iV model. It gets a swooping roofline over the regular Enyaq iV, and will be available with the same trims and powertrains. Despite the sleeker design, it offers 570 litres of boot space, a drop of just 15 litres over the standard car.