Used cars under £6,000 – where to find them and what to look for
You can get a lot of used car for £6,000 on the secondhand market - we show you how
New cars are considered a thoroughly worthwhile purchase to some people. Spending more money to get something brand new with warranty certainly has its upsides, but is it really the best solution? The used market is full of secondhand cars costing a fraction of what they used to. If you know what to look for and how to look for it, then purchasing from the classifieds can be very profitable.
£6,000 these days won't even net you the Dacia Sandero, Britain's cheapest new car. But as long as you're careful with your £6,000 (it's still a sizeable amount of money, after all) it should get you a long way on the secondhand car market.
For more advice check out our article on the pros and cons of buying a used car.
Where do you find used cars for under £6,000?
A local main dealer is a great place to start when looking for a used car for less than £6,000. Most will have a wide array of properly checked used cars ready for you to buy.
It's worth tracking down an approved used car at your local main dealer, as for a small premium you'll find a car with a guaranteed service history that should be free from any dodgy past.
If a main dealer doesn't produce any results, the next best option is to visit independent used car dealerships. Review websites are important for finding out whether or not a certain dealership has a good or bad reputation. Ask your friends and family for recommendations, too.
Cars bought from dealerships – whether franchised or independent – are generally more expensive than those from private sellers. But you get more legal protection than you would in a private sale. Dealers also have cover their staffing and property overheads, as well as making a profit.
Buying privately isn't a bad thing thing, though, but you have to know what you're doing. There are plenty of classified and auction websites out there, and the bigger names spend a great deal of time policing their adverts.
Regardless of where you buy, always go to view the car first – the pictures only show what the seller wants you to see. In the case of car auctions, try not to get carried away with bidding way more than you want to spend on a car – choose your budget and stick to it.
What do you check for when buying a used car?
Cars for less than £6,000 can be quite old, especially if you plan on buying a big car that was more expensive when it was new. This means wear and tear should show up much more clearly. Parts will have many more miles of usage on them, which is what causes them to wear out and require replacement.
Take an experienced mechanic with you when you view a car, let them have a good look around it and make sure you get what you're paying for. This could be a friend, someone from your local garage or even an AA or RAC technician. This helps you to buy with more confidence, plus being able to spot a problem gives you an opportunity to haggle the price down.
Partnership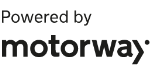 Need to sell your car?
Find your best offer from over 5,000+ dealers. It's that easy.
While a lot of checks involve mechanical parts and whether or not they're going to fail soon, but there are also several simple checks anybody can make. For example, bubbling paint can be a sign of rusting under the surface. You can often spot if a car has been repaired after an accident if body panels don't fit properly, or the paint colour on one panel doesn't quite match the rest of the car.
The interior is a good place to look for wear as well. Anybody can have a look inside for deep stains or ripped fabric on seats, the headlining or the floor. The steering wheel, pedals and seats will give a good indication of how much a car has been used. Don't forget to check seats under any seat covers that may be on the car – they could be hiding something.
Another easy thing anyone can do is to check that the mileage on the dashboard matches the records in the service book and MoT certificates. If it doesn't, there could be some suspicious activity going on.
The VIN (Vehicle Identification Number) is a car's passport. It's a 17-character string of numbers and letters that should be stamped on a metal plate somewhere under the bonnet. It's normally duplicated at the base of the windscreen and on the chassis in the driver's footwell. If these numbers don't match, the car could have been stolen or involved in a serious accident at some point in its life. Either way, your suspicions should be raised.
Lift the bonnet to check for indications that fluids have been leaking, as that could present a serious issue. Check all fluid levels when the engine is cold, too; oil, coolant and brake fluids are the most important to check for leaks and the levels of all of them can be indicators of how well the owner is looking after their car.
The brake fluid reservoir is usually towards the back of the engine bay and the oil dipstick is usually identified by a brightly coloured yellow or orange handle.
The quality of the engine oil is also important. If it's translucent, golden in colour and still liquid then it's likely to be relatively fresh. However if it's thick, black and gunky, then it's old or the engine isn't as healthy and fresh as it should be. Checking the underside of the oil filler cap (located on top of the engine block) is also a good idea, as any thick beige residue there is likely to mean major engine damage. This residue is known as 'mayonnaise' and is the result of oil and cooling fluid mixing together due to a 'blown' head gasket.
The tyres are the next thing to check. Legally, the tread of each tyre needs to at least 1.6mm deep and the whole surface area of the tread should be evenly worn. Uneven wear could be a sign of suspension problems, poor wheel alignment or incorrect tyre pressures.
Most modern tyres have small lumps of rubber in the tread; if the tyre is worn down to the top of these lumps, then it's at the legal limit and needs replacing. If there's no indicating lump of rubber in the tread, then the rim of a 20p coin (which measure around 1.6mm) can be used to check the tread depth. The older the used car you're looking at, the more likely it is to have a spare tyre, so be sure to check that, too.
A tread depth of less than 3mm will seriously impair your stopping ability in wet or slippery conditions, so this is when you should consider changing a tyre.
How do you test drive a used car?
If the car passes the above tests, then a test drive is the next step towards determining if it's the one for you. Try to go out alone if you can, as a salesman talking about the car can distract you from identifying potential problems. If you're buying privately, it's highly unlikely the seller will allow you to take the car on your own. In any case, you must ensure you're properly insured.
Listen out for any rattles or other strange noises coming from around the wheel and engine areas, as these can be signs of wear and tear in the suspension or engine. Make sure the car doesn't drift to one side when you let go of the wheel for a brief moment as this can also mean wheel problems. If the car veers to one side when using the brakes then this is also a good indicator that there are problems with the car.
Crunching from the gearbox is the sign of a big repair bill, and if the clutch 'bites' too low or too high in the pedal travel, it'll need attention, too.
After you complete the test drive, have another look under the bonnet. If it was clean before the drive and is now oily or covered in fluid, then there's a leak somewhere.
Assuming you're happy with the car, you should consider a vehicle history check, sometimes referred to as a HPI check. It should confirm that the vehicle isn't subject to outstanding finance and hasn't been previously written off by an insurer or recorded as stolen. Many dealers will do this check for you, but if you're buying privately, it's worth spending a bit of cash for the added peace of mind.
To search through a wealth of nearly new and used models, or to order a new car, check out our sister site BuyACar.
Engine management light: top 5 causes of amber engine warning light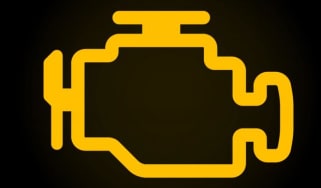 Engine management light: top 5 causes of amber engine warning light
Best new car deals 2023: this week's top car offers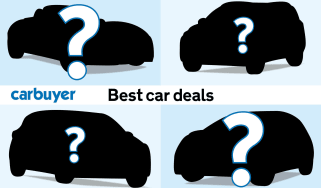 Best new car deals 2023: this week's top car offers
Top 10 best cars under £200 per month 2023/2024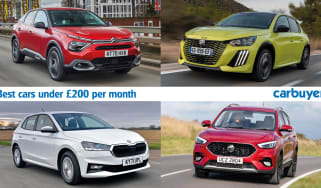 Top 10 best cars under £200 per month 2023/2024