Used Skoda Yeti buying guide: 2009-2017 (Mk1)
Attractively priced, the Skoda Yeti is hard to ignore as a versatile used SUV choice
The Skoda Yeti joined the busy compact SUV market in 2009, causing quite a stir in the process. As the Skoda SUV, the Yeti brought with it the common-sense design, proven technology and temptingly affordable pricing the brand is renowned for.
While the recipe wasn't exactly imaginative, the Yeti quickly earned a reputation for dependability and competence and began winning industry plaudits for its off-road capability and towing prowess.
It was voted our car of the year in 2010 for good reason, and continues to impress today, with scores of proud owners testifying to its lasting success. Here's our buyer's guide to securing a good secondhand example.
Skoda Yeti history
In September 2009, the Skoda Yeti arrived with a choice of 105bhp 1.2-litre TSI and 160bhp 1.8-litre TSI petrol engines, plus three 2.0-litre TDI diesels with 109, 138 and 168bhp respectively. Four models were available, ranging from entry-level E through S and SE to Elegance. In August 2010, the petrol engine line-up was augmented by a 1.4-litre TSI, with an eco-friendly GreenLine model appearing three months later, powered by an economical 1.6-litre TDI diesel engine.
The Yeti range was updated in January 2014 with additional equipment and a redesigned interior, while a tougher Yeti Outdoor model was also introduced, with rugged styling and practical off-road features.
Which is the best Skoda Yeti model for me?
Choosing a Yeti largely comes down to what you'll use the car for. If you expect to stay on well-surfaced roads most of the time, the front-wheel-drive-only 1.2 and 1.4-litre TSI petrol and economy-focused 1.6-litre TDI GreenLine diesel models will suit just fine. If you expect to need rough-road or grassy-field capability, you'll want either the 1.8-litre TSI petrol, the 2.0-litre TDI 140 diesel or 2.0-litre TDI 170 diesel, all of which were only available with four-wheel drive. The only model to offer a choice of configuration was the least powerful 2.0-litre diesel, the TDI 110. We recommend the four-wheel-drive models for towing.
The turbocharged petrol engines are all pretty zesty and make the Yeti surprisingly fun to drive. Cars with a manual gearbox are less expensive to buy, plus the gearbox is more reliable, although the DSG semi-automatic is no horror story in this regard.
All models are well equipped – even the Yeti E has air-conditioning, remote central locking, electric front windows and power-adjustable heated door mirrors. Our preference is for at least S, as this includes the extra safety of electronic stability control, as well as attractive alloy wheels and electric rear windows. The SE is attractive and luxurious, with dual-zone climate-control air-conditioning and privacy glass, plus the added convenience of rear parking sensors and cruise control.
Top of the range is the Yeti Elegance, which has has bi-xenon headlights, leather trim, heated front seats, automatic wipers and an auto-dimming rear-view mirror.
When looking at used Yetis, you'll find that high-mileage examples are significantly cheaper than those with fewer miles under their belt, but condition and a good service history are far more important than a low number on the odometer. Many Yetis have accrued high motorway mileages, but have been maintained fastidiously.
Four out of five Yetis have a diesel engine, while only one in seven is automatic. Petrol Yetis tend to be priced fairly randomly due to their scarcity, but the 1.8-litre TSI is quite a fast and fun machine – if not very cheap to run – and might be attractive if you cover a low yearly mileage.
Running costs, maintenance and parts
The 1.8-litre TSI will only return 35mpg, making it markedly more costly to run than the others, while its 189g/km CO2 emissions mean a £270 yearly road-tax bill. The other petrols are more frugal, with the 1.2 and 1.4-litre models offering a fuel consumption between 41 and 55 mpg and road tax between £115 and £185 a year.
The thirstiest diesel is the 2.0-litre TDI 140, with the economy of some dropping to 43mpg. The powerful TDI 170 returns 47mpg and the others around the 50mpg mark. The thrifty GreenLine 1.6-litre TDI model can achieve 61mpg and its road tax costs only £30 a year.
Maintenance schedules are variable and a dashboard indicator shows when a service is due – the least frequently you can expect this is every two years or 20,000 miles, whichever happens first. Minor and major services cost around £150 and £280 respectively.
Beyond basic servicing, brake fluid renewal is required every three years at £60, and the four-wheel-drive models need axle-oil replacement at the same interval for £80. All diesel engines have camshafts operated by a toothed belt – this wears over time and will need to be changed every four years or 120,000 miles on the 2.0-litre TDI and every 140,000 miles on the 1.6-litre TDI. This costs £380 – or £480 if the water pump also needs replacing.
What to look out for
The Skoda Yeti is a robust and relatively simple car, and problems are few. However, there is a list of niggles that many cars exhibit.
The air-conditioning compressors can fail and the condenser can leak. This can be expensive to repair, so ensure the air-con blows cold on any car you look at.
Stones flung up from the front wheels can cause damage to the paint at the front wheelarch edges, and on the rear doors.
Hard-to-trace electrical glitches have been reported on a few cars, especially where multimedia systems have been installed. If the car you're looking at has one, make sure everything is operating correctly.
Many Yetis have received paintwork repairs to the bumpers or display parking scars – this is because the extremities of the car can be tricky to judge and not all Yetis are fitted with parking sensors.
Drivers of Yetis fitted with the DSG twin-clutch automatic gearbox have reported that the engine can occasionally stall when maneuvering after braking heavily. This is to do with the way the engine's electronic control module is programmed and can't be resolved.
Don't waste your time looking for a spare wheel: there won't be one unless the original owner bought one from the dealership for around £140. You should find a tyre-inflation kit, though.
Recalls
Only one recall has been made for the Skoda Yeti. It was issued in December 2011 and only affected the 2.0-litre TDI common-rail diesel engine – with 1,867 cars included in the campaign. It addressed the possibility of a diesel leak caused by vibrations damaging high-pressure fuel lines and was solved by fitting them with anti-vibration balance weights.
Alternatives
The most formidable rival to the Skoda Yeti is the Nissan Qashqai, which boasts similarly appealing looks and can be bought in four-wheel-drive form, too. Our Driver Power survey shows that it can't match the reliability of the Yeti, though. Nor can the Peugeot 3008, another well-equipped rival with good standard equipment. This car isn't available with four-wheel drive, though.
The Citroen C3 Picasso is an interesting choice. It's a little smaller and front-wheel-drive only, so not suitable for off-roading, but it's less expensive than the Skoda and very practical. The dependable Ford Kuga is a talented all-rounder, while the Volkswagen Tiguan, Honda CR-V and Toyota RAV4 are all more expensive than the Yeti but well worth a look.
Verdict
We've been lucky enough to run two Yetis on our fleet and nobody had many negative words for either of them. Our 1.2-litre TSI was thoroughly reliable over the 20,000 miles we put on it, and the same was true of the 1.6-litre diesel we had next. The dealers we visited were helpful, too.
More than anything, we were impressed by the Yeti's usefulness. Its interior is tough and versatile, equipment is generous and running costs are low for its class, making it one of the best family cars going.
We were also impressed by the Yeti's performance in our Driver Power owner satisfaction survey. It's always performed well, and in 2016 managed a 16th-place finish out of 150 cars featured. Owners love pretty much every aspect of Yeti ownership, and it has been a Driver Power winner three times – remarkable for a car released back in 2009.
Updated Peugeot 5008 starts at £29,585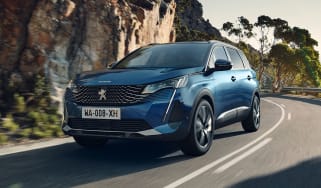 Updated Peugeot 5008 starts at £29,585
Cupra Formentor SUV review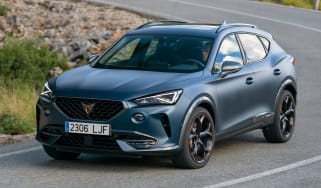 Cupra Formentor SUV review
2020 Volkswagen ID.3 hatchback: base model starts at under £30k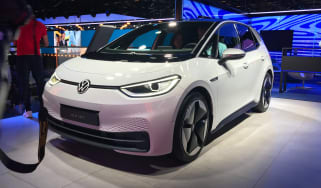 2020 Volkswagen ID.3 hatchback: base model starts at under £30k